Nato boss urges 'UK leadership' over budget target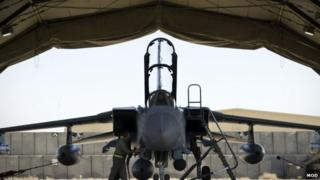 The head of Nato has said he expects Britain to "show leadership" over the alliance's defence spending target.
At a summit in Wales last year, Nato members committed to spending 2% of national income on defence annually.
David Cameron has refused to confirm if a government led by him after May's election would still meet this target.
After meeting the prime minister this morning in London, Nato's Jens Stoltenberg said he expected all allies to "fulfil" the spending pledge.
Mr Cameron has insisted that, despite significant cutbacks in serving personnel since 2010, the UK has one of the largest defence budgets in the world and that spending on equipment will increase in real terms after 2015.
Unlike many other Nato members, the UK currently spends 2% of its national output on defence but a number of former senior officers have expressed concerns about the UK's ability to meet this target in future, given the government's plans to reduce the deficit and secure a budget surplus by 2018.
But Mr Stoltenberg said he had been reassured about the UK's position after holding talks with Mr Cameron in No 10.
He said: "I left that meeting with a very strong feeling that the UK is really taking their commitments as a Nato ally very seriously and that the UK in the future is going to show leadership. The UK is today a staunch important strong ally."
Asked if Mr Cameron had promised to meet the pledge in the next parliament, Mr Stoltenberg said: "The commitment is already made because the UK made a commitment last fall together with all the allies."