Lord Ashdown slaps down Tim Farron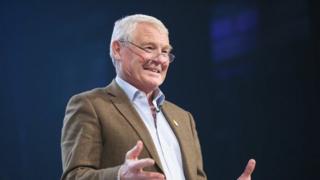 Lord Ashdown has said Tim Farron - one of the frontrunners to be a future Liberal Democrat leader - lacks judgement.
Mr Farron was quoted in the Mail on Sunday suggesting that the Lib Dem brand would be tainted for a generation by governing with the Conservatives.
Lord Ashdown said: "Tim's a very able guy but at the moment judgement is not his strong suit."
He was asked about Mr Farron's comments on Radio 5 Live's Pienaar's Politics.
The Lib Dem election campaign chief, and former leader, went on to say: "I know Tim very well. He is a great campaigner, a good friend of mine. I think his well-known ambitions would probably be better served with a little more patience and a little more judgement."
Mr Farron was quoted as saying: "In 2010, many people said: I am not voting for you because of the Lib Lab pact (in the 1970s) when I was seven years old. Just think what going into coalition with the Tories will do to our brand over the next generation."
The Lib Dems insist that was not a new quote.