National minimum wage to rise by 20p an hour to £6.70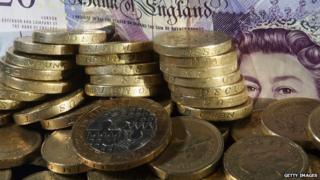 The national minimum wage will increase by 20p an hour to £6.70 from October, the government has announced.
The changes will benefit more than 1.4 million workers.
The hourly rate for younger workers will also rise, and for apprentices it will go up by 20% - or 57p - to £3.30 an hour.
The rates were recommended by the Low Pay Commission but the government has gone further than the 7p an hour increase suggested for apprentices.
Prime Minister David Cameron said the across-the-board increases would offer "more financial security" to workers.
Labour said the minimum wage had been "eroded" since 2010 while unions said the increases would not address "in-work poverty".
The 3% increase in the national minimum wage for adult workers is the biggest real-terms rise in seven years.
---
Analysis by economics editor Robert Peston
For those of us fortunate enough to earn considerably more than the national minimum wage, a 3% rise to £6.70 may sound pretty derisory.
It is equivalent, for example, to just two and half flat-white coffees in a famous coffee chain, and would allow the recipient of that wage to rent a one-bedroom place in a dowdier part of London, so long as he or she didn't eat, use power, pay council tax or wear clothes.
Not big bucks.
But when David Cameron and Nick Clegg say it is the "largest real-terms increase" since 2008, they are not simply making a point about how badly low-paid workers have done (before tax and benefits) since then.
Because what has been happening to inflation - its fall to a low of 0.3% in January - makes the 3% increase better than a poke in the eye.
---
It was recommended by the Low Pay Commission - the independent body that advises the government on the minimum wage.
The statutory minimum for 18 to 20-year-olds will also go up by 3% from October, from £5.13 to £5.30, and by 2% for 16 and 17-year-olds, taking the rate to £3.87, as the Low Pay Commission advised.
But the government has rejected the commission's proposed 7p an hour increase in the apprenticeship rate, choosing instead to increase it by 57p an hour.
The rate applies to apprentices aged 16 to 18 and those aged 19 or over who are in their first year. All other apprentices are entitled to the national minimum wage for their age.
'Worse off'
Announcing the changes, Mr Cameron said: "At the heart of our long-term economic plan for Britain is a simple idea - that those who put in, should get out, that hard work is really rewarded, that the benefits of recovery are truly national.
"That's what today's announcement is all about, saying to hardworking taxpayers, this is a government that is on your side. It will mean more financial security for Britain's families and a better future for our country."
Deputy Prime Minister and Lib Dem leader Nick Clegg said the announcement meant "whether you're on low pay or starting your dream career through an apprenticeship, you will get more support to help you go further and faster".
Business Secretary Vince Cable urged the Low Pay Commission earlier this year to look at increasing the apprentice rate by £1 an hour but the government decided against this.
Mr Cable said the increase now being envisaged was a "small sum" but it sent a "signal that we want young people to see it (apprenticeships) as a promising career, as increasing numbers are".
Labour has promised the minimum wage would rise to £8 an hour over the course of the next parliament if it wins in May.
"This is our aspiration. We are more ambitious for the British people than this lot in office," shadow business secretary Chuka Umunna told the BBC.
Labour has said a quarter of apprentices are not being paid the minimum wage and it was "absolutely committed" to enforcing it in government.
UKIP leader Nigel Farage said an influx of unskilled labour from across Europe had driven down the cost of labour in the UK and the "minimum wage had become the maximum wage" for many British workers.
"Rather than helping people on low pay it has put a glass ceiling on them," he told the BBC's Daily Politics.
The national minimum wage has increased broadly in line with average earnings since 2006 and was at its highest relative to average earnings growth in October 2013.
'Politicisation'
CBI director-general John Cridland said it was "positive" that the government had accepted the Low Pay Commission's recommendations on the adult and youth rates.
But, he added, it was "disappointing" that ministers had chosen to increase the apprentice rate by more than suggested, saying he was worried by the "politicisation" of the commission.
And free-market think tank, the Institute of Economic Affairs, said the Low Pay Commission was straying away from its remit and being used "as a vehicle to reduce inequality".
"The minimum wage was introduced to eliminate perceived exploitative pay at the bottom end of the jobs market, taking into account the prospect that minimum wages set too high would lead to fewer job opportunities," said its director-general Mark Littlewood.
"Today's announcement flies in the face of that principle."
Frances O'Grady, the general secretary of the TUC, said the rate increases go "nowhere near enough to end in-work poverty", and should have been "much bolder".