UKIP's Nigel Farage facing High Court threat from Amjad Bashir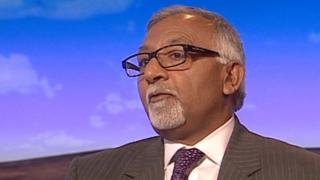 UKIP leader Nigel Farage is facing legal action from an ex-UKIP MEP who defected to the Tories, the BBC's Victoria Derbyshire show has learned.
Amjad Bashir's lawyers have written to Mr Farage asking him to publicly withdraw a range of allegations he made in January and pay damages.
The letter says otherwise he could face possible libel action in the High Court.
A UKIP spokesman said: "UKIP does not take part in trial by television."
But it said it could not comment further while the legal case was ongoing.
Defection
Mr Bashir - MEP for Yorkshire and the Humber - joined the Conservatives in January, saying that UKIP had become a "party of ruthless self-interest" and had a "ridiculous" lack of policies.
But hours before his defection was to be made public he was suspended by UKIP, which said in a press release it was over "unanswered financial and employment questions".
The following day, Mr Farage said he had become "increasingly alarmed" by Mr Bashir's behaviour and that his "only surprise" was that the Conservative Party had accepted him as a member.
At the time Mr Bashir dismissed all the allegations - made on BBC One's Andrew Marr programme and an interview on the Daily Telegraph and ITV websites - as "totally wrong" and an attempt to "muddy the waters".
Now the Victoria Derbyshire programme has seen a nine-page legal letter from Mr Bashir's solicitors, Atkins Thompson, sent in mid-March to Mr Farage and UKIP chairman Steve Crowther.
The letter says: "There can be no other conclusion that [the allegations] were published as part of a deliberate campaign on the part of UKIP and its most senior officers to discredit Mr Bashir in retaliation for his decision to join the Conservative Party."
It demands that a press release detailing the allegations is removed from the UKIP website; that an apology to Mr Bashir is made in open court; and that damages and legal costs are paid.
"Contrary to the impression given by the press release, [Mr Bashir] had no forewarning of what UKIP had decided to allege," the letter says.
In a statement, Mr Bashir said: "As soon as the various allegations were made it became clear that I had no choice but to pursue legal advice.
"I have taken that advice, we have compiled a case, and this now remains in the hands of my lawyers."
He said he would not comment further on the case while it is still ongoing.
The BBC understands that lawyers representing both Mr Farage and Mr Crowther have asked for extra time to consider the letter and will respond by mid-April.
Victoria Derbyshire is broadcast weekdays from 09:15-11:00 BST on BBC Two and BBC News Channel. Follow the programme on Facebook and Twitter, and find all our content online.