Who is Andy Burnham? Labour leadership contender guide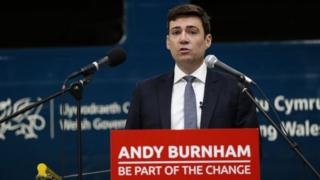 Get to know the contenders vying to be the next leader of the Labour Party with our at-a-glance guide.
Name: Andrew Murray Burnham
Age: 45
Background: The middle son of a BT engineer father and GP receptionist mother, Andy Burnham was born in Liverpool but grew up in Culcheth, a quiet commuter belt village in Cheshire, near Warrington. He attended a local Roman Catholic comprehensive school and went on to study English at Cambridge university. His older and younger brothers are both teachers in the Warrington area. Told the Daily Mirror he was inspired to join the Labour Party after being moved by the BBC TV drama about life on the dole in Liverpool, Boys from the Blackstuff.
Family: Burnham met his wife, marketing executive Marie-France van Heel, known as Frankie, who is Dutch, while they were are at university. They married in 2000 and have a son and two daughters. Pictures recently emerged of the future Mrs Burnham taking part in a 1992 edition of ITV's Blind Date.
Job before politics: Tried his hand at journalism, for trade magazines including Tank World and Passenger World Management, before getting his big break in politics in 1994 as a researcher for Labour minister Tessa Jowell.
Route into Parliament: Worked for the Transport and General Workers union and, after the 1997 election, was briefly a parliamentary officer for the NHS Confederation, a trade body, before taking up a post as an administrator for the government's Football Task Force. In 1998, he became a special adviser to Culture Secretary Chris Smith, a position he remained in until he was elected.
Political pedigree: A proud Labour "lifer", who joined the party at 14, Burnham rose rapidly to prominence after becoming the MP for Leigh, his home area, in 2001. Very much a New Labour figure, he was initially seen as a Blairite but got his big break courtesy of Gordon Brown, who made him a member of the cabinet in 2007. Came fourth out of five contenders in the 2010 battle to replace Mr Brown as Labour leader but spent the next five years building up his appeal with the party's grassroots with trenchant attacks on NHS cuts and calls for Ed Miliband to be bolder.
Achievements: Served as Chief Secretary to the Treasury, Culture Secretary and Health Secretary under Gordon Brown. In April 2009, after being heckled at the 20th anniversary of the Hillsborough disaster, he began a campaign that eventually led to the second Hillsborough inquiry.
Controversies: His actions in 2009 as health secretary in response to revelations about failings at Mid Staffs hospital - where years of abuse and neglect led to the "suffering of hundreds of people" - have been criticised by the Conservatives. They say he should have launched a public inquiry rather than a private independent inquiry.
Policies: Would ditch the "mansion tax" calling it an example of the "politics of envy" but would restore the 50p top rate of income tax rate. Backs membership of a reformed EU but has called for an early referendum. Wants to win back business support and take a firmer line on immigration. Promises an end to "privatisation" of the health service and merge social care with NHS services.
Outside interests: The sports mad MP was a fast bowler for Lancashire schoolboys cricket team in his youth and is a lifelong Everton fan. He was a striker for the Demon Eyes football team in the 1990s, which included fellow Labour special advisers and rising stars Ed Balls and David Miliband. A fan of Manchester indie bands like The Smiths and The Stone Roses (he picked two Smiths tracks and a Morrissey solo number on Desert Island Discs).
Burnham on why Labour lost: In recent years "a sense has built up that we aren't in favour of people getting on. That is toxic. We need to get back to communicating simple policies that will make a real difference to people".
Burnham on how Labour can win: "This leadership election is not about who wins this individual election. It's got to be about: who is the person best placed to win for Labour at the next election? And I would say the biggest thing that stands in the way of that is the lack of emotional connection that we now have with people all over the UK."
How he wants to seen: Plain-speaking "man of the people" who scorns the "Westminster bubble" and will put the "heart" back into Labour and re-connect the party with ordinary working people.
How others see him: "Many people talk about aspiration, but Andy is a living example. A working-class lad from Liverpool who went to a comprehensive and got a place at Cambridge University," Lord Prescott in the Sunday Mirror, who said he had seen the same "skills and qualities" in Burnham he saw in a young Tony Blair.
"Andy was always Andy. Nice. Solid. Dependable. Sort of guy who does what he says on the tin," former Labour researcher and Burnham contemporary Dan Hodges in The Telegraph.
"He has always been driven. He mixed a lot, he played a lot of sport and was popular when he was younger but he was rigid in his studies. At a certain time in the evening, he would go and do his homework," Burnham's father Roy speaking to The Liverpool Echo in 2010.
"Doe-eyed Burnham is a boy doing a man's job. He blows with the prevailing wind whether it comes from the Blairite right or the loony left," Sun political columnist Trevor Kavanagh (after Mr Burnham said he would not speak to the newspaper).
Who backed him: Labour grandees Lord Prescott and Lord Falconer, along with more fresh-faced Labour figures such as Rachel Reeves and Dan Jarvis, who was briefly touted as a leadership contender before ruling himself out. Was initially portrayed as the unions' favoured candidate but announced in May his campaign would not be accepting any union money. Comedian David Walliams also supported him.