David Cameron defends UK's Syria refugee offer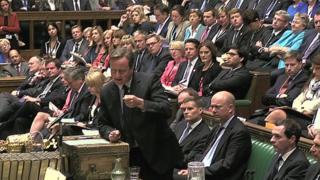 David Cameron has defended the government's decision to accept 20,000 Syrian refugees by 2020, saying they will get a "warm welcome".
The PM said there was "no limit" to how many could come in the first year, after Labour said his pledge meant only 4,000 would arrive this year.
Speaking in prime minister's questions, Mr Cameron said he wanted to "get on with it".
But he said housing and schools had to be in place before they arrive.
'No limit'
Pressing Mr Cameron over his commitment to re-settle 20,000 Syrian refugees in the UK by 2020, acting Labour leader Harriet Harman urged him to say how many refugees would arrive this year.
She also called on him to accept children who have already arrived in Europe, in addition to those in camps around Syria.
Mr Cameron said: "We have to use our head and our heart.
"We have committed to taking 20,000 people, I want us to get on with that. There is no limit to the amount of people that could come in the first year, let's get on with it."
"But", he added, "let's recognise we have to go to the camps, we have to find the people, we have to make sure they can be housed, we have to find schools for their children, we have to work with local councils and local voluntary bodies to make sure when these people come they get a warm welcome from Britain".
Ms Harman insisted a commitment was needed on how many people would arrive in the first year - and called on the PM to come back to Parliament in a month with a figure.
The PM's spokesman later said it was clear Mr Cameron's "no limit" comment was within the context of the 20,000 places he has announced.
Refugee quotas
Mr Cameron was also questioned over the UK drone strike which killed two British Islamic State fighters in Syria.
SNP Westminster leader Angus Robertson asked that parliament's Intelligence and Security Committee, to which he has just been appointed, be given "all relevant information" pertaining to the strike so it could conduct a review.
The PM said he was happy to discuss it but he insisted he would not "contract out counter terrorism policy".
The committee "cannot be responsible for overseeing current operations", he said, adding that his was the responsibility of the government.
Mr Cameron also dismissed claims that child refugees would be automatically kicked out of the UK when they reached the age of 18, telling MPs the "assumption" was they would be granted leave to remain.
And he said the UK would not participate in European Commission plans to redistribute migrants around the continent.
Commission President Jean-Claude Juncker has urged European countries to accept more refugees - setting out plans on Wednesday for 120,000 additional asylum seekers to be distributed among EU nations, with binding quotas.
An estimated 340,000 asylum seekers have arrived in Europe so far this year, most braving dangerous sea journeys from North Africa and Turkey.
France said on Monday it would take in 24,000 refugees over the next two years, while about 18,000 people arrived in Germany last weekend alone.
But Hungary, the Czech Republic, Slovakia and Romania have all joined the UK in rejecting the idea of official resettlement quotas.