Lib Dem conference: Activists reject 'scrap Trident' call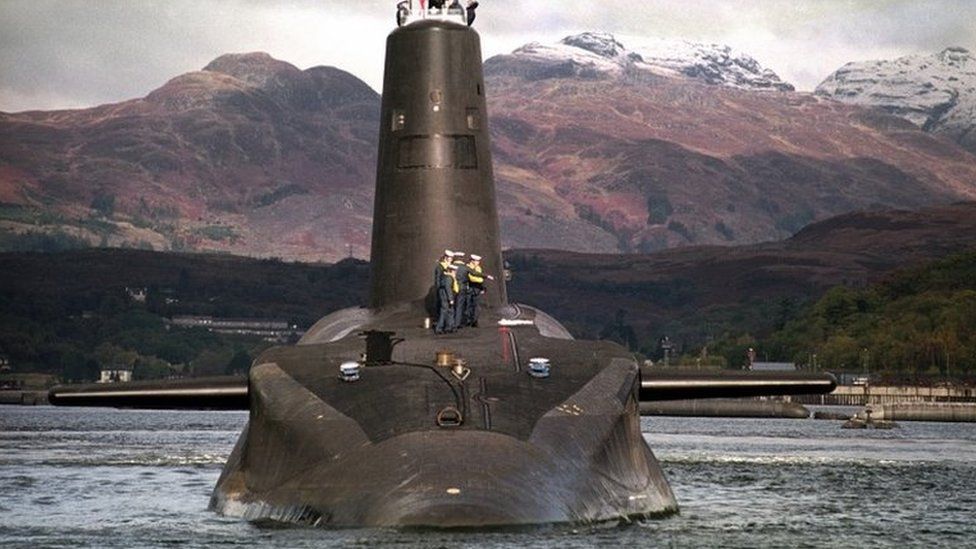 Liberal Democrat leader Tim Farron has survived a challenge over defence policy, after the party voted against scrapping Britain's nuclear weapons.
Some activists at the party conference had called for Trident to be axed, saying it was expensive and unnecessary.
But Mr Farron urged them not to back the motion, calling instead for a review to identify alternatives.
His position was endorsed by 579 votes to 447. Mr Farron said he was "very pleased with the result".
The vote - which was an early test of Mr Farron's leadership - means the party will vote against the like-for-like replacement of the Trident system but not endorse unilateral disarmament.
It will establish a working group in 18 months' time "to develop policy on the future of Britain's nuclear deterrent, if any, following a full consultation within the party".
A final decision on the future of the Trident nuclear weapons system in 2016.
The debate and vote on Trident came during the third day of the annual Lib Democrat conference, which this year is taking place in Bournemouth.
Among those supporting the policy motion to scrap Britain's nuclear weapons programme were former MPs Julian Huppert and Tessa Munt - who lost their seats in May.
Ms Munt told activists that passing the motion would give the Lib Dems a "completely clear position" on nuclear weapons.
Questioning the need for Trident, she told activists: "You can't nuke a terrorist," and asked whether its replacement could be afforded.
"How can this country have food banks when we are just about to spend £100bn on a replacement system that we will never use?" she said.
However, party grandees Baroness Williams, Scottish leader Willie Rennie, Welsh leader Kirsty Williams and ex-deputy leader Sir Simon Hughes were on the other side of the argument.
Lady Williams highlighted that "things have changed", citing Iran's decision not to pursue uranium refinement "because of endless diplomatic debate".
"In other words, we are now on the doorsteps of a real attempt to try to remove the serious nuclear threats that exist in the world," she told party activists.
Following the vote, the Liberal Democrats said: "Today's vote reasserts our commitment to voting against the renewal plan.
"There has been much discussion about how quickly, safely and efficiently Britain can reduce its nuclear capability. The party will now look into the options for the future of Britain's nuclear deterrent.
"Tim Farron believes Britain should be stepping down the nuclear ladder and doing so in conjunction with our Nato allies around the world."