Russia 'making Syria more dangerous', Michael Fallon says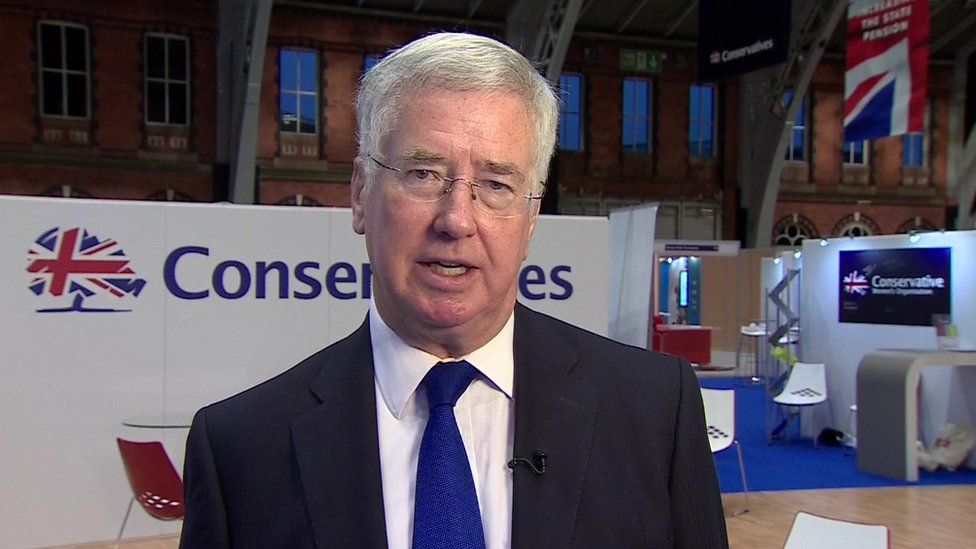 Russia's intervention in the Syrian civil war has made the situation "much more dangerous", Defence Secretary Michael Fallon has said.
Russia says its air strikes, which are backed by Syrian President Bashar al-Assad, are aimed at so-called Islamic State and "other terrorists".
But the US and its allies say other rebel groups have been targeted.
Mr Fallon also said the government was "slowly building a consensus" among MPs for UK airstrikes over Syria.
He is to attend a Nato summit in Brussels on Thursday to discuss Russia's action and the fight against Islamic State (IS) extremists.
Defence sources told BBC assistant political editor Norman Smith they believed only a "tiny minority" of Russian airstrikes in Syria were targeting IS forces, with some intelligence reports suggesting only one in 20 were directed against the militant Islamist group.
It is also claimed Russian planes are using unguided weapons, causing civilian casualties, he added.
Mr Fallon told BBC Breakfast: "The Russian intervention in Syria has made a pretty difficult situation much more dangerous."
He said Nato would urge Vladimir Putin to stop "propping up" the Assad regime, adding: "We will be co-ordinating our activity to make sure the Russians actually start to respect some of the rules."
He said Russia's incursion into the air space of Turkey - a Nato member - would be condemned in "very strong terms" at the summit.
Russia began its air campaign in Syria last Wednesday.
It says it is targeting "all terrorists" in co-ordination with Syria's government, but Nato and allied states have expressed concern that it is concentrating its attacks on rebel groups opposed to President Bashar al-Assad, some of them backed by the West, and not jihadist groups like IS.
British MPs voted against action in Syria to prevent the use of chemical weapons by President Assad in 2013.
Now the government wants to extend its bombing campaign against IS from Iraq into Syria, but says it will only do so with Parliamentary approval.
Mr Fallon told told BBC Radio 4's Today programme it was "illogical" to strike targets in Iraq but not Syria.
On Tuesday, Prime David Cameron said he could not put a timescale on the vote, saying the government would "go back at a time when there's a greater consensus across the House of Commons".
He acknowledged some Conservatives would oppose air strikes in any circumstances and claimed Labour leader Jeremy Corbyn, who is against any military intervention, did not "see the risk" from IS.