Jeremy Corbyn faces threat of shadow cabinet resignations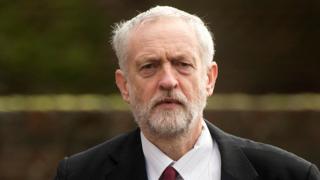 Jeremy Corbyn is on a collision course with his shadow cabinet over his opposition to UK air strikes in Syria.
Half of them support military action - and some have warned of resignations if he forces them to back his position.
The row erupted after the Labour leader wrote to his MPs saying he was not convinced by David Cameron's case for bombing IS targets in Syria.
Some shadow ministers felt he was trying to put pressure on them before they had agreed a common position.
Shadow Foreign Secretary Hilary Benn, who backs air strikes, has said he will not resign over the issue.
'Unacceptable behaviour'
He said Labour MPs might "end up" being given a free vote to avoid further rows.
That would mean the Labour leader voting against many of his senior colleagues but the party's backbenchers - many of whom remain unconvinced by the case for air strikes - could back him.
Shadow Chancellor John McDonnell tweeted: "On Syria, can everyone calm down. We're all simply working through the issues and coming to final decision. Don't mistake democracy for division."
Shadow justice secretary Lord Falconer said he had "got no problem" with Mr Corbyn's letter and there was no question of resignations.
The shadow cabinet is due to meet again on Monday.
Mr Corbyn has pulled out of a visit to Oldham West, where he was due to campaign ahead of next week's by-election, to deal with the unfolding row.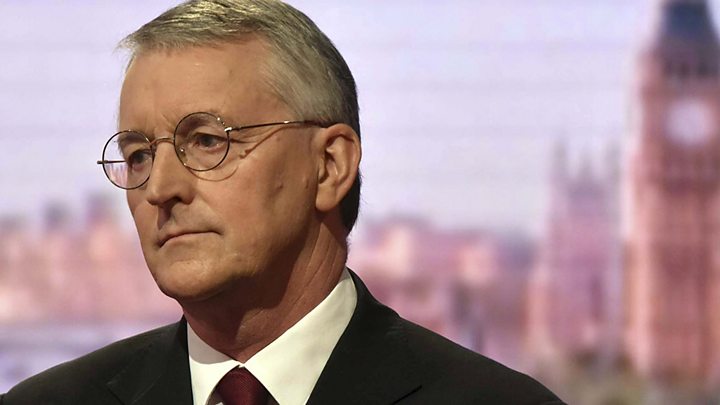 Mr Corbyn's decision to send a message to Labour MPs before they had reached agreement on a common position angered some senior shadow cabinet members.
One told BBC News: "There will be resignations among senior members of the shadow cabinet over this."
Others, who did not wish to be named, have warned that Mr Corbyn could face frontbench walk-outs if he opts to whip any vote on air strikes, rather than allowing MPs to vote with their conscience.
'Storm'
Labour MP John Spellar, a member of the defence select committee, said Mr Corbyn's behaviour had been "unacceptable".
He told BBC Radio 5 Live: "How does Jeremy Corbyn and his small group of tiny Trots in the bunker think they've got the unique view on it all?
"It's absolutely right for him to put that view in the shadow cabinet. It's right for them to discuss it.
"They thought they were going away to resume that discussion on Monday. He's now trying to pre-empt that and whip up a storm inside the party."
He urged shadow cabinet members to stand their ground, adding: "If anyone should resign after this incident, it should be Jeremy Corbyn."
Another ex-minister, Fiona Mactaggart, said Mr Corbyn's leadership was "weak" and "unsustainable", although she was also unconvinced about the case for bombing Syria.
David Cameron spent nearly three hours on Thursday answering questions from MPs in an attempt to convince them of the case for air strikes.
He argued joining in with strikes on IS targets in Syria would make Britain "safer" and the country had to stand by allies such as France rather than "outsourcing" its security.
He has said he will not hold a vote authorising military action until he can be certain of winning it, to avoid handing IS a "publicity coup".
He needs the backing of a certain number of Labour MPs to offset any rebellion on his own side.
Mr Cameron has said he believes he won over some wavering MPs and he urged them to "vote on the basis of the arguments."
In his letter to Labour MPs, Mr Corbyn said: "I do not believe the PM's current proposal for air strikes in Syria will protect our security and therefore cannot support it."
He said Mr Cameron did not have a "coherent strategy" for defeating IS and had not been able to explain "what credible and acceptable ground forces could retake and hold territory freed from ISIS control by an intensified air campaign".
'Grassroots view'
Hilary Benn told Radio 4's Today programme he would not quit the Labour frontbench but he insisted that the terror threat to the UK was "very, very clear" and it was right the UK "plays its full part" in targeted military action in Syria.
Mr Corbyn, he said, was "perfectly entitled" to express his view to Labour MPs and every member of the shadow cabinet would be making their own mind up about what to do.
Asked if this meant that they would be given a free vote, he said "that remains to be seen", adding "maybe that is where we end up".
However, shadow international development secretary Diane Abbott insisted the shadow cabinet was not entitled to vote down the Labour leader and that she believed they would come to the "right decision".
She said: "I know what views party members will take if MPs ignore the views of the people at the grassroots and try and take this issue to the brink.
"Jeremy appoints the shadow cabinet - not the other way round.
"You cannot have a shadow cabinet voting down the leader of the Labour Party who has just been elected with the biggest mandate in history."
---
Analysis
By Laura Kuenssberg, BBC political editor
It's no secret that Jeremy Corbyn is a longstanding opponent of military intervention in the Middle East. After the debate on Thursday he met his shadow cabinet to try to hammer out a common position.
After a difficult couple of hours it was plain, despite the leader being opposed, that most of the shadow team is in favour of air strikes. So they agreed to disagree, and to talk again after the weekend.
Then, to the astonishment of some of Mr Corbyn's own team, just a couple of hours later, his office published a letter that made it abundantly clear there is no chance he will back air strikes, and his position is set.
Making that move has, in the words of one shadow minister, "lit the blue touch paper" in the shadow cabinet.
Another said members were so angry they had to be "scraped off the ceiling".