Caroline Lucas quits role as patron of Stop The War Coalition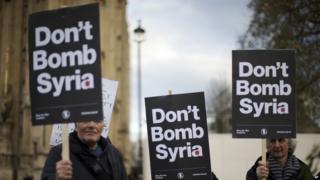 Caroline Lucas has quit her role as a patron of the Stop The War Coalition, citing disagreements with some of the anti-war group's "recent positions".
The Green Party MP said she could not support some of the anti-war group's statements and stepping back was the "responsible thing to do".
She said she remained opposed to the UK bombing Islamist extremists in Syria.
Labour leader Jeremy Corbyn has said he will maintain his links with the group despite criticism from some of his MPs.
Former frontbencher Tristram Hunt has labelled the group, which was formed in 2001 to oppose military intervention in Afghanistan, "disreputable", citing comments it made in the immediate aftermath of the Paris terror attacks and its "language" since then.
Stop The War has rejected his criticism, saying the MP was out of touch with public opinion, which it said had been opposed to UK participation in all foreign military interventions in the past 15 years.
Ms Lucas told Channel 4 News she had written to Stop The War "a couple of weeks ago... and asked if they would take my name off their list of patrons because I was troubled by certain statements that they have made".
"That has now been leaked to the press today, hence the furore," she added.
Earlier, a spokesman for the MP said her commitments in Parliament and her Brighton constituency meant she did not have the time to "fully engage" with the role of patron.
"In light of some recent positions that she didn't support, she felt standing down was the responsible thing to do," the spokesman added.
Ms Lucas has spoken at Stop The War Coalition events in recent days but her spokesman would not say whether this would continue.
Asked by Channel 4 News whether Mr Corbyn should attend a Stop The War charity fundraiser on Friday, she said that he would do "what he thinks is the best thing to do".
The group's other patrons include politicians Diane Abbott and George Galloway, actor Mark Rylance and musician Brian Eno. Mr Corbyn, who used to chair the group, has said he will continue to support it, including attending a fundraising event this week.