Labour 'in denial' about record warns election study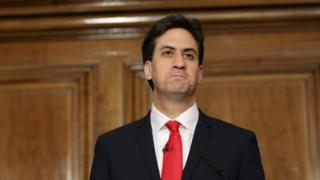 A review of why Labour lost the last election has suggested that the negative views of the party amongst swing voters were "deep and powerful".
The study, conducted by Gordon Brown's ex-pollster Deborah Mattinson, suggests voters believe Labour is "in denial" about its "appalling" economic record.
The findings suggest voters feel Labour is "in thrall to the undeserving".
Ms Mattinson has criticised the party's official report into its election defeat as a whitewash.
Labour said the Beckett report had "consulted far and wide", taking input from pollsters, pundits and academics, and would be acted upon.
The pollster undertook voter research to feed into Dame Margaret Beckett's report, which was published last week, but says her evidence was not published.
Her own review, commissioned by former deputy leader Harriet Harman, concludes Labour must now "atone for its past, especially on the economy", "be competent, especially on the economy" and "show it takes Scotland seriously".
'Indistinguishable'
It says Scots who voted SNP in 2015 see Labour as "indistinguishable from the Conservatives - just less competent".
It found that many English voters who voted Conservative in 2015 struggled to remember anything much about last year's general election campaign, although the televised debates were mentioned by most with David Cameron and the Tories seen as "repetitive and very bullish about the economy, whilst Ed Miliband was seen as a "dork", a view epitomised when he nearly fell off his podium at the end of one of the encounters.
The English voters said the Tories' assertion that Labour leader Ed Miliband, had he formed a government after the election, would have been bullied by SNP leader Nicola Sturgeon rang true because Mr Miliband was seen as "bumbling and weak".
The report says Labour must acknowledge its problems, develop policies which are "genuinely aspirational and inclusive", show it is "not being taken for a ride by scroungers" and has a "clear and credible line on immigration".
The report's research was conducted in marginal constituencies in Croydon, Watford, Nuneaton, Edinburgh and Glasgow. No-one who voted Labour in 2015 was involved, with those questioned including former Labour voters and Conservative and SNP supporters aged between 30 and 50.
Speaking on Sunday, Ms Mattinson told the BBC she was "very concerned" that lessons from the election would not be learned and was "somewhat disappointed" that her research was not more fully reflected in the Beckett report.
Ms Mattinson, founder and director of research and strategy consultancy Britain Thinks, said voters "didn't trust Labour to manage the economy" and they "categorically" blamed the party for the 2008 financial crisis.
She also said people did not see Labour leader Ed Miliband as "prime ministerial". "If you look at every election since the '70s, what you see is that the party that has the leader with the best ratings is the party that wins. There's no exception to that," she added.
The Beckett report identified four main factors for Labour's defeat - leadership, trust on the economy, a lack of traction on immigration and welfare and the fear of a minority Labour government being propped up by the SNP. It said Labour faced a "huge challenge" to win again in 2020.
However, it said assumptions that Labour lost the election because it was too left-wing and because its policies were unpopular were overly simplistic and should be treated with caution, adding that the manifesto was an "impressive document."