Government backs down in face of Tory 'solar tax' rebellion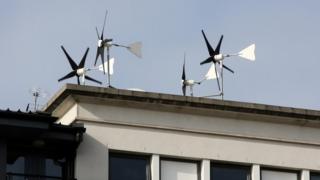 Downing Street has said it will not resist attempts by Tory Eurosceptics to block a rise in VAT on solar panels after it faced potential defeat.
Tory rebels angry at EU influence over UK tax rates were set to join forces with Labour to stop any rise in the 5% rate on home insulation and renewables.
Ministers have also conceded ground in another EU-related tax row.
The government said it will not block a separate amendment calling for a 0% VAT rate for women's sanitary products.
In the wake of Wednesday's Budget, UK officials said EU leaders had agreed a deal to allow the UK to scrap the so-called "tampon tax", the 5% VAT rate on women's sanitary products.
The UK is seeking more flexibility over VAT rates currently set at an EU level. The European Commission is set to publish proposals on Wednesday on giving member states more leeway over VAT rates.
But about a dozen Tory Eurosceptics were still planning to side with Labour by backing amendments to the Finance Bill demanding action on the twin tax issues - which are in the spotlight ahead of June's EU referendum.
Eurosceptics have been persistent critics of rules in force since the early 1990s harmonising VAT rates across the EU, arguing they undermine national sovereignty and the right of member states to set their own tax rates.
VAT rules
The UK and other EU members cannot levy sales tax at less than the standard 15% rate except on specified items. For these approved products and services, countries have the scope to charge VAT at a reduced rate of no less than 5%.
The UK has long applied a 5% rate to the installation of domestic energy-saving products for anyone over the age of 60 who is unemployed, disabled or claiming benefits such as income support or housing benefit.
But the current 5% rate was ruled illegal by the European Court of Justice in June. The Court said it was a breach of EU laws as the products and services concerned did not fall within the VAT directive which only exempts the "provision, construction, renovation and alteration of housing as part of social policy" and the "renovation and repairing of private dwellings".
Labour had warned VAT could rise to at least 15% as early as August unless the chancellor takes immediate action and that such a move would cost thousands of jobs in the renewables sector.
The opposition, which supports EU membership but has been critical of cuts to solar and renewable subsidies, has tabled an amendment to the Finance Bill "empowering" George Osborne to set a zero rates on insulation and renewable materials or, alternatively, to compensate the industry for the financial impact that any VAT rise would have on jobs and investment.
'Outrageous'
Labour's amendment, expected to come to a vote on Tuesday, had won the support of a dozen Tories who are unhappy about EU control over UK tax rates and seeking to highlight the issue in the run-up to June's EU referendum.
Those backing it include former ministers Tim Loughton and Peter Lilley and Graham Brady, chair of the influential 1922 committee of backbench Conservatives - all of whom want the UK to leave the EU.
If it fails to abide by the ECJ's ruling, the UK could face infringement proceedings and potential financial penalties.
But Mr Brady told the BBC News Channel the question at issue was whether the UK "decided its own tax policy or not".
"I think it is really important that just because we have had these welcome concessions, it does not make us forget we are in a position where we have to seek permission from other governments of other countries to allow us to make these changes even if the majority of people in our Parliament want those changes in tax policy."
With a working majority of 17 in the House of Commons, the government faced defeat if the SNP and the Lib Dems had also supported the opposition amendment.