Q&A: Labour anti-Semitism row
What is the row about?
It began on Tuesday when the Guido Fawkes political gossip site discovered Facebook posts made by Naz Shah, Labour's MP for Bradford West, in 2014, before she became an MP. She had shared a graphic showing Israel's outline on a map of the United States with the comment "problem solved". She was accused of anti-Semitism. She quit her role as an aide to shadow chancellor John McDonnell. She apologised to MPs on Wednesday, acknowledging "I have made a mistake". She added: "I accept and understand that the words I used caused upset and hurt to the Jewish community and I deeply regret that. Anti-Semitism is racism, full stop. As an MP I will do everything in my power to build relationships between Muslims, Jews and people of different faiths and none." She was suspended from the party.
On Thursday, Ken Livingstone defended Naz Shah in a BBC interview, saying that she was not anti-Semitic.
He went on to say: "When Hitler won his election in 1932 his policy then was that Jews should be moved to Israel. He was supporting Zionism before he went mad and ended up killing six million Jews." This was roundly condemned and led to a televised confrontation with a furious John Mann, the Labour MP who chairs Parliament's all-party group against anti-Semitism.
Why has Ken Livingstone been suspended?
The former London mayor's explosive comments prompted a wave of criticism from Labour figures and calls for his suspension. Leader Jeremy Corbyn suspended him, saying: "There were grave concerns about the language he used. We had a discussion about it and decided we would suspend him and he would go through an investigation by the party." It is now up to the party's ruling National Executive Committee to decide whether he should be expelled.
Who is Ken Livingstone?
Twice elected Mayor of London, once under his own independent banner, after falling out with Tony Blair, he is one of the few figures in British politics to be routinely referred to by his first name. He has divided opinion since his time as leader of the Greater London Council in the 1980s. Former Labour leader Neil Kinnock alleges that it was Mr Livingstone who invented the "loony left". Others were shocked by his call for dialogue with the IRA and championing of gay and ethnic minority rights - issues on which he now says he was "ahead of his time". Profile: Ken Livingstone
Why did Labour MP John Mann get so angry with him?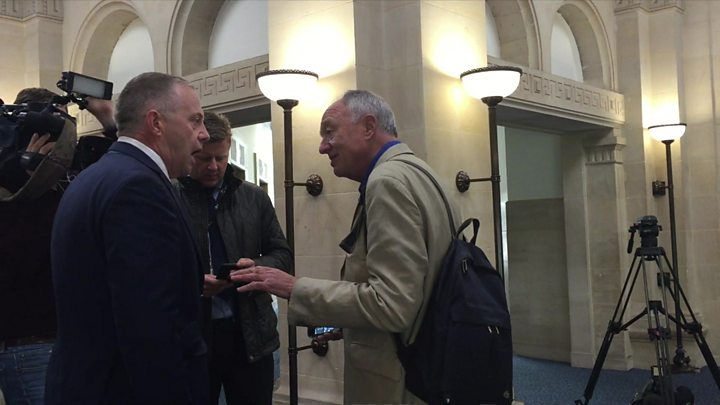 Mr Livingstone denied suggesting Hitler was a Zionist, adding the Nazi leader was "a monster from start to finish" and claimed to have been quoting historical "facts". But in an angry confrontation, Mr Mann shouted: "You're a Nazi apologist, you're rewriting history. Go back and check what Hitler did." Jonathan Arkush, president of the Board of Deputies of British Jews, said: "What Ken Livingstone deliberately did was to draw an equation between Nazism and Zionism. He therefore crossed a line into what certainly most people would regard as distinctly anti-Semitic." Livingstone Hitler comments 'inaccurate'
What is anti-Semitism and Zionism?
Anti-Semitism is "hostility and prejudice directed against Jewish people" according to the OED while Zionism refers to the movement to create a Jewish state in the Middle East, corresponding to the historic land of Israel. Some say the word "Zionist" can be used as a coded attack on Jews others, including Ken Livingstone, say anti-Zionism is not the same as anti-Semitism and criticism of Israeli government policy should not be conflated with anti-Jewish prejudice. What is the difference between anti-Semitism and anti-Zionism?
Is the Labour Party anti-Semitic?
Labour's leaders say the party has a proud history of fighting racism and promoting racial equality - and the party's MPs would be horrified to belong to an organisation that was anti-Semitic. But it has faced accusations of growing anti-Semitism in its ranks. In April, Luton councillor Aysegul Gurbuz was suspended from the party over a message on her Twitter account that Hitler was "the greatest man in history". The month before, it suspended activist Vicki Kirby for a second time following criticism of her reinstatement - posts on her Twitter page included one suggesting Hitler was a "Zionist God". Labour peer Baroness Royall is also looking into claims of anti-Semitism at Oxford University Labour club. Party leader Jeremy Corbyn says: "Anybody that thinks this party is not cracking down on anti-Semitism is simply wrong. We have suspended where appropriate, we've investigated all cases. We will not tolerate anti-Semitism in any form in our party.'