Boris Johnson out of Conservative race: Twitter reacts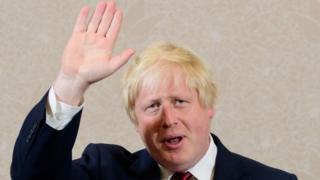 Social media has been reacting to the surprise announcement from Boris Johnson ruling himself out of the race to be the next Conservative leader and prime minister.
It came after justice secretary and fellow Brexit campaigner Michael Gove announced that he would run for leader.
The reaction on social media began with tweets and memes reacting to Mr Johnson's speech, which took many by surprise.
Others speculated about the motive behind it and incorporated political developments in the US.
On Twitter, others decided to add captions and draw their own conclusions from events in the Conservative leadership contest.
Celebrities have also given their verdicts on events of the day and predictions of what they think will happen next.