Tory leadership: Theresa May says voters want more than 'Brexit PM'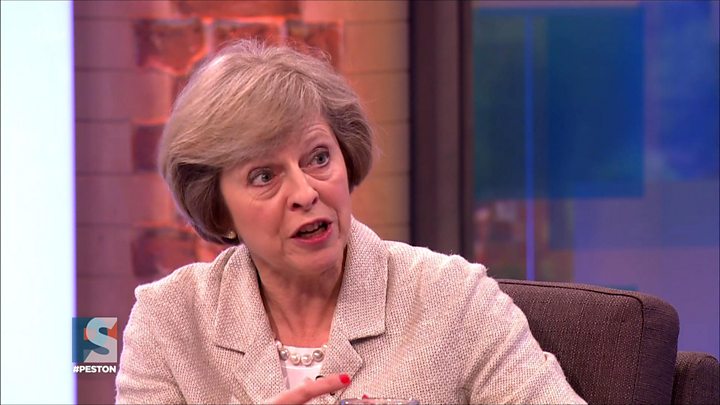 Theresa May has rejected rivals' claims that the next Tory leader must have supported a Leave vote in the EU referendum - saying people want more than "a Brexit prime minister".
The home secretary promised to bring the Remain and Leave sides together and "govern for the whole country".
Rival candidates Andrea Leadsom and Michael Gove both said the winner must have backed Brexit.
Candidates have been setting out their stalls in a series of interviews.
Mrs May also suggested migration could rise ahead of the UK's eventual exit from the EU, and said the status of EU nationals living in the UK would form part of the forthcoming negotiations.
Mr Gove, the justice secretary, defended his tactics in the face of criticism, telling Andrew Marr it would have been a "betrayal of this country" if he had allowed Boris Johnson to run.
The leadership contest was triggered by David Cameron's decision to step down by October after he was defeated in the EU referendum.
Like the PM, Mrs May campaigned for a Remain vote, saying during the campaign EU membership made the UK more secure.
But she told ITV's Peston on Sunday it was "not a question of 'what was your view 10 days ago'", promising to reconcile both sides of the debate and "move forwards".
While talks to extract the UK from the EU and to strike trade deals would be "hugely important", she said people were "not looking for a prime minister who is just a Brexit prime minister, but a prime minister who can govern for the whole of the country".
The home secretary has a comfortable lead among MP nominations over her rivals Mrs Leadsom, Mr Gove, Stephen Crabb and Liam Fox.
But she dismissed suggestions that others should stand aside to present a unity candidate, saying she wanted a "contest" and that it was important party members "have their opportunity to have a say".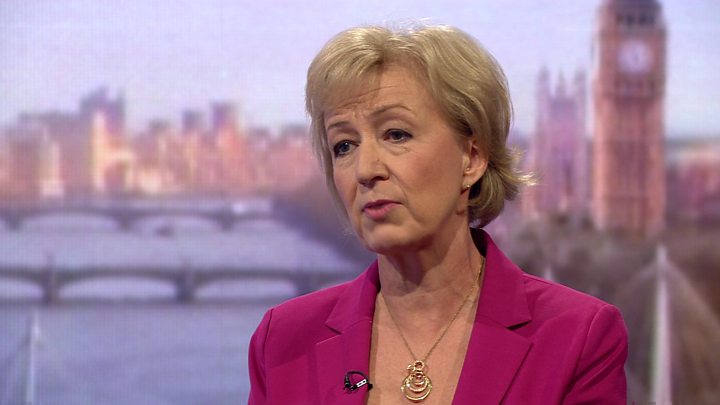 Mrs May also dismissed an early general election for the new prime minister as "another destabilising factor" for the economy.
On immigration, she said she wanted to "guarantee the position" for EU citizens living in the UK - and of Britons living elsewhere in Europe - adding that this would be factored into negotiations over the UK's exit package.
She said immigration needed to be brought down to "sustainable levels" but would not put a date on when it could come down to the tens of thousands, in line with Conservative Party targets.
Once a deal is struck with the rest of the EU, she said, "we may very well see in the run-up to that, people wanting to come here to the UK before that exit happens".
Mrs May also said the UK had to finalise its "negotiating stance" before formally triggering the UK's departure from the EU by invoking Article 50 of the Lisbon Treaty.
But speaking on the Andrew Marr show, Mrs Leadsom said the UK should "get on with it".
Mrs Leadsom, the pro-Brexit energy minister, faced questions about a 2013 speech in which she said leaving the EU would be "a disaster for our economy".
She said she had been on a "journey" since making that speech and that David Cameron's reform renegotiations with Brussels showed the EU was "just not reformable".
She reiterated that the next Tory leader should have backed the Leave campaign, because it "has to be someone who believes in the opportunity of leaving the EU".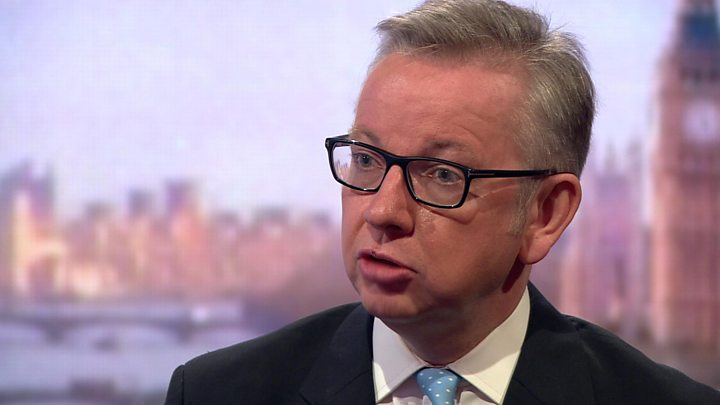 Mr Gove, the justice secretary, made the same point in an interview in which he also responded to anger at last week's dramatic U-turn in turning on Boris Johnson and announcing he would stand for leader himself.
Mr Gove said his former ally had "ducked" crucial decisions and failed to show the qualities needed to take over from David Cameron, saying he reached his decision "very late" on Wednesday night.
He said: "I knew that by taking that decision all sorts of people would attack me personally but I love my country, I could not recommend that Boris was prime minister, I had tried to make that work and, therefore, it would have been a genuine betrayal of principle and of this country to have allowed Boris's candidacy to go ahead with my support."
Mr Crabb warned of deep divisions in the Conservative Party if his colleagues continue to describe themselves as "Leave" or "Remain".
"I tell you, if we allow this leadership contest to be seen just through the prism of whether you are 'Leave' or 'Remain' we risk splitting the party - mark my words," the work and pensions secretary, who campaigned for a Remain vote, told Peston on Sunday.
Mr Fox, who backed Leave, said he remained hopeful of gaining enough MPs' signatures to make it onto the ballot. He said it was possible for the winning candidate to be someone who backed Remain but suggested they would be taken less seriously in EU negotiations as a result.
'Mandate' to lead
In Sunday newspaper articles, Mr Gove and Mrs Leadsom emphasised the need for the next prime minister to have backed Leave in the referendum.
Mr Gove told The Sunday Times only someone who had backed Brexit would have the "mandate" to lead.
Mrs Leadsom told the Sunday Telegraph that it "would be odd" to have a leader who did not believe in leaving the EU.
Former defence secretary Mr Fox, who also campaigned for Leave, also spoke to the Sunday Telegraph and said he would increase defence spending if he became leader of the party.
And Work and Pensions Secretary Mr Crabb, in a joint interview with his running mate Sajid Javid in the Mail on Sunday, said he had more experience than Mrs Thatcher had when she became leader.
Meanwhile, Scotland's First Minister Nicola Sturgeon has called for "immediate guarantees" on the residency status and rights of European Union nationals living in Scotland.
She has written to Mr Cameron and the five leadership candidates to say EU citizens in Scotland are "understandably anxious and uncertain" about what the referendum result means for them.
Although the UK overall backed leaving the EU, in Scotland 62% voted to Remain.
As of Friday evening, Mrs May had secured the backing of 96 of the party's 330 MPs in the leadership context, while Stephen Crabb had 22, Mrs Leadsom had 21, Mr Gove had 18 and Liam Fox had 10.
More than 160 MPs have yet to declare whom they will support.
The candidates will take part in a series of ballots of the MPs, starting on Tuesday.
The two most popular will then go on to a vote of the wider party membership, with the result due on 9 September.
---
Who's in the running?
Home Secretary Theresa May: The 59-year-old has replaced Boris Johnson as the bookies' favourite to win the contest. She's held the Home Office brief - often something of a poisoned chalice - since 2010, and is a former Tory party chairman. She says she can offer the "strong leadership" and unity the UK needs, and promised a "positive vision" for the country's future. She backed staying in the EU. Theresa May profile
Justice Secretary Michael Gove: The 48-year-old former newspaper columnist was a key figure in the party's modernisation that led to its return to power in 2010. He was a reforming, if controversial, education secretary between 2010 and 2014, and now holds the Ministry of Justice brief. He was a leading player in the Brexit campaign - which put a strain on his close friendship with David Cameron. He has pitched himself as the candidate that can provide "unity and change". Michael Gove profile
Work and Pensions Secretary Stephen Crabb: The 43-year-old was promoted to the cabinet in 2014 as Welsh secretary, and boosted his profile earlier this year when he took over as work and pensions secretary. A rising star of the Tory party he has promised to unite the party and country following the referendum result and provide stability. Raised on a council estate by a single mother, he has a back story to which many Tory MPs are attracted. Backed Remain. Stephen Crabb profile
Energy minister Andrea Leadsom: The 53-year-old former banker and fund manager was one of the stars of the Leave campaign. A former district councillor, she became MP for South Northamptonshire in 2010 and - after serving as a junior Treasury minister and as a member of the Treasury select committee - she was made a junior minister in the energy and climate change department in May last year. Andrea Leadsom profile
Former cabinet minister Liam Fox: It's second time around for the 54-year-old ex-defence secretary and GP, who came a close third in the 2005 leadership contest. His cabinet career was cut short in 2011 when he resigned following a lobbying row. A Brexit campaigner, and on the right of the party, he has said whoever becomes PM must accept "the instruction" of the British people and not "try to backslide" over EU membership. Liam Fox profile