Chilcot Report: 'Everybody knew the equipment wasn't fit for purpose'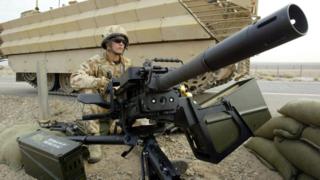 The Chilcot inquiry into the Iraq war has concluded that British military personnel were given wholly inadequate kit as they went to fight on the front line.
The Iraq war, which began in March 2003, claimed the lives of 179 UK soldiers.
Military personnel and staff at the Ministry of Defence back up the findings that there were serious shortages of equipment and that troops were already overstretched.
"Everybody knew the equipment wasn't fit for purpose"
Damian Britton from Bristol served as a rifleman in Basra in 2006 and 2007. He was 21 years old when he first served in Iraq.
"We were told we were one of the best armies in the world but within a couple of weeks it was clear we didn't have the right kit or it was substandard," he said.
"In the army there is a culture of cracking on with what you've got, but everybody knew the equipment wasn't fit for purpose. The men and the training were second to none but in terms of our kit we were behind other nations.
"This massively affected morale.
"There were improvements over time but by then we were winding down in Iraq. Within our battalion I know they were always pushing for more resources but that didn't always materialise."
"I joined the army to defend the UK, not to topple regimes"
Mark Richard Baldwin lives in Doncaster. He served in Iraq 2005 and 2007.
"We were sent out on border patrols with soft top Land Rovers. It took the death of soldiers for the government to give us Snatch Land Rovers.
"I looked forward to going to Iraq initially. It wasn't until my first tour that I started thinking I didn't agree with the campaign. I started to question whether it was right to remove Saddam. Iraqis told me it was much better under his rule.
"I joined the army to defend the UK, not to topple regimes - any weapons he might have had would not have been able to reach the UK.
"I felt like an occupier not a liberator."
Victoria Priestly worked at the Ministry of Defence. She agrees with the report
"In 2003 I was working in procurement for the MoD. I was a contract officer. I felt I was kept in the dark about the government's plans.
"The decision to invade Iraq seemed so quick to me and there just wasn't time or resources. I was utterly dismayed. I knew we couldn't prepare our troops with the right equipment then.
"People fighting for us were coming home after having their legs blown off. There was nothing I could do.
"The Chilcot Report has made me feel shocked and sick. To realise that there was no need for the war and no need for people to lose their lives."
Produced by the UGC & Social News Team