Cameron's legacy: How will you remember him?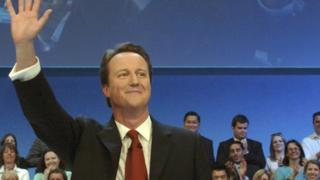 It's always bittersweet when someone you've worked with leaves the office, so when David Cameron said goodbye after six years at Downing Street there were plenty of tributes paid at his final cabinet meeting.
Political journalists and pundits have offered their view on how Mr Cameron will be remembered.
But what do the British people feel will be his legacy?
EU referendum
David Hazel in Birmingham believes David Cameron will always be remembered first and foremost as the prime minister who held a referendum on Britain's membership of the EU.
"He'll be remembered as the prime minister who bet the future of the country on a referendum, the real aim of which was to sort out Eurosceptics within his own party. He lost that bet, and as a result forced the country out of the EU, possibly leading to the eventual break-up of the UK itself. That's not a legacy to be proud of."
But Brian Anley on Facebook has a different view on the referendum: "He will be remembered for offering the British people the keys to unlock the EU shackles. One which the majority of us gratefully received. Cheers Dave."
Mohammed Sarkar in London emails: "I think he will be remembered as a prime minister of referendums for both the successful Scottish referendum and the failed EU one."
Tina Playford emails: "I feel really sorry for David Cameron. He took over under very difficult circumstances and has done a great job. He tried hard to negotiate terms with the EU and it is sad to see him stand down. He has served Britain well."
Welfare cuts
One of David Cameron's lasting legacies will be the austerity measures made under his tenure. Cuts were introduced to Britain's welfare system.
Jonjo Mooney emails: "Mr Cameron created austerity measures as benefits were axed across the spectrum. Food bank use also went up during his time."
David Lowe in Wigan, Lancashire, emails: "He is the prime minister who introduced the dreaded bedroom tax which must have affected many others on benefits like myself."
Patricia Green in Newport remains more positive about the economic outlook: "David Cameron has brought this country from the depths of the economic recession through to a growing economy. This by the formation of a coalition government introducing progressive policies and succeeding ultimately in the culmination of a wholly conservative government.
"I am proud and extremely thankful to have witnessed this transition."
Danielle Chapman emails: "I think David Cameron should be remembered for bringing unemployment down and Britain out of a recession."
Gay marriage bill
Johnny Thompson in Cardiff believes David Cameron should be praised for introducing gay marriage.
"As a member of the LGBT community, I'll always remember David Cameron as the prime minister who finally introduced gay marriage into the United Kingdom.
"His social policies, in modernising the Conservative Party and protecting vulnerable minority groups such as my own, is a feature of his premiership which I hope is not forgotten.
"Mr Cameron, essentially, made me proud not only to be British, but proud to be myself. That is invaluable."
But John Norman, in Badsey, Worcestershire, writes: "He legalised gay marriage but it wasn't even in the Tory manifesto and against the wishes of many of his own MPs."
Produced by Rozina Sini from the BBC's UGC and Social News team