Who's likely to get top jobs in Theresa May's cabinet?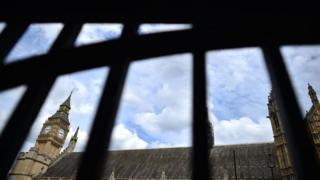 Most of the tension around here today is in the Labour Party.
The shadow cabinet is just finishing up, and the party machine is preparing for a crucial, emergency meeting of its National Executive Committee this afternoon.
At that meeting, a decision is meant to be made on how the party's rules around a leadership contest work.
The question: Does an existing party leader need to get the nominations of MPs to get their name onto the ballot for the vote? Or does the party's leader automatically get on to the ballot?
The party's official legal advice is understood to say that the leader does require fresh nominations. Legal advice sought by Jeremy Corbyn says the opposite, that he, or frankly any leader, has an automatic right to be on the voting paper.
It matters so much because Labour is now into a leadership contest, and hardly anyone believes that Jeremy Corbyn would get enough support from MPs to get on to the ballot this time round.
The NEC is meant to decide what the actual position is this afternoon. Whatever it rules, both sides are so dug in that there could be a legal challenge. Extraordinary as this is, if the party officially rules that Corbyn does not have an automatic place, he might take the party he leads to court.
If the NEC rules that he does have that automatic place, then a different chunk of the party machine might take that decision to court too. You read that correctly - one part of the Labour machine might, by the end of the day, be taking another part of it to court.
Meanwhile, David Cameron has chaired his last cabinet, the removal vans are parked up at the back of Downing Street, and the Tories are embarking on one of Westminster's favourite pastimes - guess the cabinet.
There are, of course, all sorts of theories, suggestions, plots about plots, and hot tips - it's the kind of place where everyone likes to feel they are the first to know - but frankly, few do.
Theresa May is someone who keeps her views close to her and her small team - so guesses are just that, a stab in the dark.
However, for fun, even just so I can be proved wrong in the next couple of days, here are a few shots at it after conversations with various different players in the game.
There is a consensus that Philip Hammond, the foreign secretary, will become the chancellor, doing what might be one of the most powerful job swaps in the land with George Osborne.
After too long in the Treasury bunker, most people expect him to be moved out. Chris Grayling is likely to head up the negotiations over us leaving the EU, in charge at whatever ministry is created to mastermind that process.
As a prominent Eurosceptic who didn't get down in the gutter in the campaign, he is likely to rise, having run Theresa May's short campaign too.
James Brokenshire, Theresa May's long-serving Home Office minister, is likely to be put in charge at that department - not a bad reward for years of having to defend the government's struggling immigration policy at the despatch box.
Stephen Crabb is likely to be left where he is, John Whittingdale might be moved out of the culture brief, potentially to be replaced with Damian Green, a Europhile who was also part of May's campaign team.
Priti Patel and Justine Greening are likely to be moved up, Nicky Morgan to be moved out, Amber Rudd and Sajid Javid both thought to be likely to stay where they are.
I'd heap layer after layer after layer of caveats on top of all of that. Most of those predictions, some mine, some from others, are likely to be wrong!
It is a big and complicated process, and it's likely that May's team haven't worked it all out yet. But the biggest question of all is whether or not this will be a reshuffle that tries to move on from the recent times, and ship out George Osborne, Michael Gove and Boris Johnson.
Some in Westminster think Theresa May, who prizes loyalty and trust, might be bold.
It would be bold to deny all three cabinet jobs, but would send a very strong message to the rest of the party that their way of doing politics, and the psycho drama of the campaign, is not how Theresa May wants things to work.
But the next prime minister also wants to symbolise experience, stability and unity. How to juggle all of that and build the right team at the same time is quite a task.