Who's who in Team Theresa May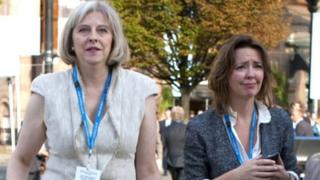 Who are likely to be key players in Team May as Theresa May starts her time as UK Prime Minister?
Fiona Hill
Fiercely loyal and seen as a formidable operator, Fiona Hill, known by her married name Cunningham before she was divorced, has been brought back into the fold after being forced to resign as Mrs May's special adviser in a 2014 dispute with Michael Gove over who was to blame for briefing newspapers about an increase in extremism in schools.
A former Sky News and Scotsman journalist in her early 40s, she was at Mrs May's side for four years at the Home Office, becoming a close confidante of the then home secretary, describing her as a "lioness", according to the Spectator. She led work on the Modern Slavery Act and published her own report on the subject. Spent her time in exile from politics as a director of lobbyists Lexington Communications.
Nick Timothy
Another former special adviser to Mrs May who is to advise her in Number 10, Nick Timothy is credited with influencing her views on social mobility and the need to put the Conservatives "at the service of working people". He is a firm believer in ending the UK economy's reliance on financial services and promoting a wider range of industries. He has also spoken out against George Osborne's plan to give China a stake in Britain's nuclear energy industry, arguing it could compromise national security, in one of a series of articles for the ConservativeHome website.
The bearded Brummie is the son of a steelworker, who went to grammar school and joined the Conservative Party at the age of 17. His ambition to be a Conservative MP was reportedly thwarted by David Cameron, following a row over special advisers being asked to canvass in a by-election. He resigned his post as head of the New Schools Network, set up in 2010 to promote free schools, to join Mrs May in Number 10.
Stephen Parkinson
A former special adviser to Mrs May, Stephen Parkinson worked on her leadership campaign despite being part of the Vote Leave campaign in the EU referendum. A former lobbyist for Quiller Consultants, he is reported to have worked on the team that briefed David Cameron on media appearances and successfully campaigned for a No vote in the 2011 referendum on changing the UK's voting system.
Like Nick Timothy, he was removed from the list of Conservative candidates over his refusal to canvass for votes in the Rochester and Strood by-election, over concerns it broke guidelines.
Joey Jones
Former Sky News deputy political editor Joey Jones was hired by Mrs May earlier this year as the Home Office's head of news. Although a civil servant, and technically impartial, his appointment was seen as a move to beef up Mrs May's press operation ahead of a leadership bid. The speculation at Westminster is that Mr Jones will slot into the role expected to be vacated by Craig Oliver, another broadcast specialist, who was hired from the BBC by David Cameron to be the government's chief spin doctor.
The Oxford-educated former TV journalist worked for Sky News from 1999 to 2015, when he left to join a consultancy firm.
Liz Sanderson
A former Daily Mail journalist, who broke the news that Mrs May had type 1 Diabetes in a 2013 interview, in which the then home secretary said she wanted to end gossip about her weight loss. Liz Sanderson was brought in to handle Mrs May's media when Fiona Hill was forced to quit as her special adviser and was recently credited by her old newspaper, which backed Mrs May's bid for the Tory leadership, as "softening" the new prime minister's image.
Lizzie Loudon
Ian Duncan Smith's former special adviser, who quit to be a press officer for the Vote Leave campaign, when her former boss walked out of the cabinet. Lizzie Loudon is being tipped by Westminster insiders as being in line for a job.
Philip May
Mrs May's husband of 36 years will not have any formal role in her administration, and he is expected to remain out of the spotlight but Philip May will be a vital source of support and, as an experienced political hand in his own right, a valuable sounding board for the new prime minister. He was president of the Oxford Union as a student - which is normally seen as the precursor to a political career (He was preceded in that role by Conservative MP Alan Duncan and succeeded by Channel 4's Michael Crick) Read more - New PM's 'real rock'.
Sir Jeremy Heywood
As the head of the UK's civil service, Sir Jeremy Heywood is, of course, strictly impartial and, although he will know Mrs May from her time at the Home Office he is not part of her inner circle. The British system of government means that civil servants are generally expected to be able to serve any political master. His relationship with the new prime minister will be crucial to the success of her premiership. Not for nothing is the Cabinet Secretary often described as the second most powerful person in government.
Sir Jeremy served as a senior aide to Conservative chancellors Norman Lamont, Ken Clarke, Labour's Gordon Brown and then PM Tony Blair, before quitting for a job in investment banking after being criticised in the Hutton report. He was drafted back into government by Mr Brown and rose to become Downing Street chief of staff and then, in 2011, Cabinet Secretary.
Conservative MPs
Meon Valley MP George Hollingbery, a former parliamentary aide to Mrs May, is among those thought to have her ear. Dominic Grieve, the former attorney general, and former immigration minister Damian Green, were both contemporaries of Mrs May at Oxford University, as was Sir Alan Duncan, an enthusiastic early cheerleader for a May premiership.