Bercow: Malhotra office access claims didn't breach rules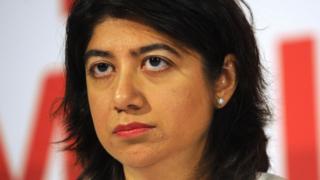 A Labour MP's claim that her office was entered without her permission does not amount to a possible breach of Commons rules, says Speaker John Bercow.
Seema Malhotra had complained to Mr Bercow that aides to leader Jeremy Corbyn and shadow chancellor John McDonnell gained "unauthorised entry".
Mr Bercow said this did not suggest any breach of MPs' parliamentary privilege.
Ms Malhotra said she "regretted the distress" caused on both sides but said the episode "should not have happened".
Mr McDonnell has called on her to apologise.
The shadow chancellor said at the time of Ms Malhotra's complaint that his office manager thought the premises were no longer occupied, and he accused Mr Corbyn's critics of picking on members of staff.
Privacy and confidentiality
He said the member of staff, who was worried about losing her job, had apologised to Ms Malhotra's team and that he had not been told about the incident before the formal complaint was lodged.
Ms Malhotra, who resigned as shadow chief secretary to the Treasury last month in protest at Mr Corbyn's leadership, had complained about two officials - one working for Mr Corbyn and another who works for Mr McDonnell.
She said there had been unauthorised access to her office "on more than one occasion", which she claimed had interfered with her ability to fulfil her role as an MP in terms of compromising privacy and confidentiality.
The MP wrote to Mr Bercow calling for an official Commons investigation, saying her staff had felt "harassed, intimidated and insecure".
Replying to her request, the Speaker said: "Having taken advice, I am satisfied that there is nothing in your letter or in the information subsequently elicited by the deputy Serjeant at Arms which would justify regarding these events as a possible breach."
'Without my knowledge'
Reacting to the news, Mr McDonnell said: "It's only right and fair that Seema now apologises for the stress she has caused to my staff over the last few days.
"As I said on the Andrew Marr Show on Sunday the Labour Party needs to unite and actions like this which are only being used to try to undermine Jeremy Corbyn's leadership must stop."
Ms Malhotra said she recognised the Speaker did not have "sufficient evidence" to determine whether the rules on parliamentary privilege - under which MPs are guaranteed certain immunities and rights to enable them to perform their duties - had been broken.
But she said there remained a number of "unanswered questions" about who was allowed entry into MPs' offices.
"I welcome the Speaker's statement that 'nobody should enter a Member of Parliament's office or the office of their staff, locked or unlocked, without their permission'. This vindicates my view that what happened should not have happened.
"My staff have been distressed by what has happened. I regret the distress that has been caused on both sides. But I come back to what this is all about: our office was entered without our knowledge and without my permission.
"And the Speaker has ruled today that should not happen."