Labour leadership: Ballot papers for contest being sent out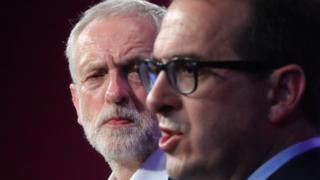 The two candidates to become Labour leader have urged members to back them as ballot papers begin to be sent or emailed to nearly 650,000 people.
The party published figures showing a surge in members and registered supporters who will choose between Jeremy Corbyn and Owen Smith.
Mr Corbyn pledged to "extend democracy" with new union powers and referendums to "challenge" privatisation.
Party conference decisions would become binding under proposals from Mr Smith.
The result of the contest will be announced on 24 September.
Labour said the voters are made up of about 350,000 members, 129,000 people who paid £25 each to be registered supporters, and 168,000 from unions and other organisations.
Ballot papers are beginning to be issued, by email and post to members, with registered and affiliated supporters only receiving an online ballot.
---
Analysis
BBC political correspondent Chris Mason
Amid the noise and the court cases, the rallies and the rancour, it is easy to overlook the extraordinary growth of the Labour movement: both those who've joined the party and those willing to sign up as supporters, at no small cost.
It's provided a welcome fillip to Labour's meagre finances: the new registered supporters alone collectively handed the party more than £3.2m in just 48 hours last month.
Over the last 40 years, membership numbers for the Conservatives and Labour have shrivelled; the Tory figure currently stands at around 150,000.
The hundreds of thousands drawn to Labour's ranks appear driven by one man - Jeremy Corbyn - and a passionate desire to either endorse or reject him.
---
In a speech in Tonyrefail, south Wales, Mr Smith promised to listen to Labour's supporters including creating a shadow cabinet of party members to advise the leadership.
He said he would bind himself to decisions taken a Labour's annual conference, adding: "I will not seek to overturn it whatever my views, but I will seek to influence it."
The former shadow work and pensions secretary said the party leadership had too often ignored the will of its conference on policy, citing Mr Corbyn's opposition to the UK's nuclear weapons despite a conference vote supporting them.
"No Labour leader has done this before and I believe it is necessary to reassure people across the party that there will be no backsliding on my watch," he said.
Mr Smith also urged Mr Corbyn to condemn the booing by his supporters of London mayor Sadiq Khan - who has backed Mr Smith - when his name was mentioned at a rally.
Mr Corbyn's campaign director Sam Tarry said Mr Khan had "burned his bridges" with hundreds of thousands of Labour members in London.
Mr Tarry said Mr Corbyn's team was "pretty confident" he was going to win, as they published reform plans including mandatory collective bargaining in firms with more than 250 employees, the election of staff representatives to executive remuneration committees, and the introduction of "sectoral union bargaining rights".
"We need to break open the closed circle of Westminster and Whitehall, and of the boardrooms too," Mr Corbyn said.
"Labour under my leadership will listen to ideas from the bottom up - and take radical action to transform and rebuild our country so that no-one and no community is left behind."
His proposals also include:
Devolution of power to local councils, regions and nations
Replacing the House of Lords with an elected second chamber
Ending what he sees as a "revolving door" corporate grip on politics and the civil service
Increasing democracy in the community through more participation in budgeting and control of local services
Introducing a citizens' right to challenge the outsourcing and privatisation of local services through referendums
Meanwhile, the leader of the Scottish Labour Party, Kezia Dugdale, became the latest senior party member to back Owen Smith in the leadership contest.
Writing in the Daily Record, she said the question of who was best placed to lead Labour to a general election victory was "the only question that matters".
She wrote: "With the Tories wreaking havoc on our country, the first and last consideration must be which of the candidates is most likely to lead the next Labour government that will invest in our public services and give everyone a fair chance in life."
Ms Dugdale added that she thought Mr Smith could "unite our party and move us on from the divisions that exist under the current leadership of Jeremy Corbyn".
---
Labour leadership election timetable
19-20 July: The number of MP nominations for each candidate was published
20 July: Deadline for people to sign up as a registered supporter closed
22 August: Ballot papers start to be sent out in the post (Labour Party members only) and by email
21 September: Deadline for ballot papers to be returned is midday
24 September: The result will be announced at a special conference in Liverpool
---