Obscene Donald Trump comments 'alpha male boasting' - Farage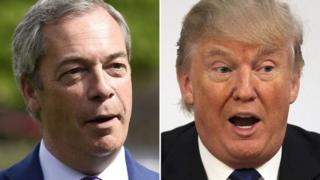 Obscene remarks made about women by US presidential candidate Donald Trump were no more than "alpha male boasting", Nigel Farage has said.
The UKIP interim leader told Fox News the remarks were "ugly" but something "if we are being honest that men do".
Mr Trump's remarks, made 11 years ago, have led at least 33 senior Republicans to withdraw their support from his presidential bid.
Labour MP Tom Watson said Mr Farage's defence of Mr Trump was appalling.
Mr Watson, who was recently made shadow culture secretary, said: "Nigel Farage seems to be enjoying his new job as the UK cheerleader for Trump but in so doing he devalues himself and his party in the minds of the decent people of our country."
---
Warning: The rest of this article contains some graphic language
---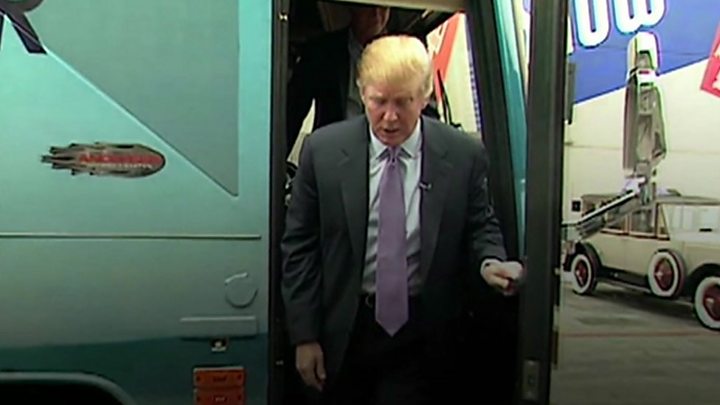 On Friday, The Washington Post released a video from 2005 in which Mr Trump makes lewd remarks about women. The video led to Speaker of the House and the Republican party's most senior elected official, Paul Ryan, withdrawing an invitation given to Mr Trump to a campaign event on Saturday.
Mr Ryan is one of a number of high-profile Republican figures to denounce Mr Trump's comments.
Former Secretary of State Condoleezza Rice and senator John McCain have both withdrawn support from Mr Trump's campaign.
In the video Mr Trump is heard speaking on a bus off-camera, where he says "you can do anything" to women "when you're a star" and is heard saying "grab them by the pussy".
On Saturday Mr Farage said Mr Trump was running to become President of the US, "not the Pope".
He said: "Look, this is alpha male boasting. It's the kind of thing, if we are being honest, that men do. They sit around and have a drink and they talk like this.
"By the way, quite a lot of women say things amongst themselves that they would not want to see on Fox News, or the front page of a newspaper. I'm not pretending it's good - it's ugly, it is ugly."
Mr Trump later apologised for his comments, but said defiantly that he would not drop out of the presidential race,.
On Sunday evening he is due to take part in a second television debate with Democrat candidate Hillary Clinton, in St Louis.
Mr Farage returned as interim leader of UKIP after Diane James stood down as head of the political group after only 18 days, claiming she did not have "sufficient authority" to lead.