Theresa May's first 100 days: How she and past leaders shaped up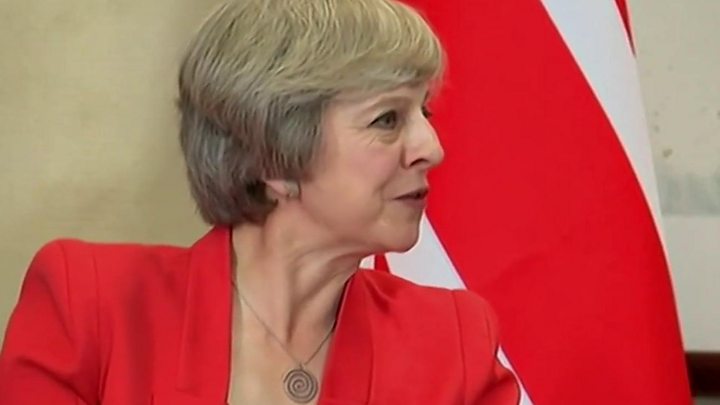 21 October marks Theresa May's 100th day as prime minister and Conservative leader.
She was catapulted into power following David Cameron's resignation in the wake of the EU referendum and fittingly, the prime minister is spending the day in Brussels, at a summit of EU leaders.
Brexit has been the defining theme of Mrs May's premiership so far. In her first statement as outside No 10, she coined the catchphrase "Brexit means Brexit", insisting that "we're going to make a success of it".
Mrs May's transition from quiet Remainer to committed Leaver has set her apart from her predecessor, a theme that she has continued with returns to more traditional Conservative positions on immigration and grammar schools.
Gone is the cosy relationship between prime minister and chancellor. George Osborne has gone, along with much of his economic policy including the commitment to a budget surplus by 2020.
In its place, there are reports of cabinet splits over the nature of Brexit, with ministers torn between "hard" and "soft" varieties of Brexit - prioritising either membership of the single market or control over immigration.
In managing this division, the Daily Telegraph writes that Mrs May "has been unafraid to stamp her personal authority on the Cabinet, applying firm leadership at a time when it was urgently needed".
As the next 100 days of Theresa May's term as prime minister unfold, and the self-imposed deadline to trigger Article 50 approaches, we may see even more of Mrs May's personal authority in action.
But how have other recent prime ministers and opposition leaders fared?
---
DAVID CAMERON
Not since Tony Blair had a new opposition leader enjoyed such positive media coverage. David Cameron's first 100 days as Tory leader, starting in December 2005, passed in a blur of headline grabbing activity.
Previous Tory leaders had tried to project a more youthful image, or deliberately picked fights with the party's right wing, only to be met with disaster, but the media were hungry for a good news story about the Conservatives and "collaborated in portraying him as a winning guy in touch with the 21st century", noted Andrew Rawnsley, in The Observer.
What happened next: Became Prime Minister in 2010 after forming coalition with Lib Dems. First 100 days: David Cameron
---
GORDON BROWN
Gordon Brown's first 100 days were close to perfect, in the view of most pundits - even those who had been highly critical of him in the past. "Confounding his critics and defying his own character, Gordon Brown has, in fewer than 100 days, proved to be a vote-winner," said Tom Bower in The Evening Standard. As the 100 days ended the newspapers were full of reports that Labour was preparing for a snap election although the Conservatives had started to close in the polls.
What happened next: Decided at the last minute against a snap election, led Labour to defeat in 2010 election. First 100 days: Gordon Brown
---
TONY BLAIR
With a 17 point opinion poll lead over the Conservatives, and glowing plaudits from the press, everything was going swimmingly for Tony Blair as he reached his first 100 days as Labour leader in the autumn of 1994. Even a party conference defeat over scrapping Clause IV of the party's constitution - a battle he would go on to win the following year - and a shadow cabinet election which left many of Labour's old guard in place failed to dent his momentum. There was some sniping from the press about the high moral tone of his first conference speech, as he sought to contrast Labour with the "sleazy" Tories.
What happened next: Won 1997, 2001 and 2005 elections before standing down in 2007. First 100 days: Tony Blair
---
JOHN MAJOR
"Mr Major emerges from his hundred days the best-loved prime minister in living memory," wrote Peter Jenkins in The Independent in early 1991. The new Conservative prime minister was widely praised his for steady, statesmanlike handling of the Gulf conflict and the aftermath of the IRA's failed mortar attack on Downing Street. And while his first 100 days had not exactly been a blur of activity, the Conservatives had edged ahead in the opinion polls wiping out Labour's previous nine-point lead.
What happened next: Pulled off surprise victory in 1992 election, but hammered in 1997. First 100 days: John Major
---
MARGARET THATCHER
The biggest complaint about Margaret Thatcher, 100 days after winning control of the Conservative Party in February 1975, was that she was too timid. In a scathing editorial, headlined The Lady Vanishes, The Sun said "she has been driving a growing number of Tory MPs to quiet despair by her half-heartedness about taking up a frontline position in the economic war". She was also attacked for declaring an effective truce with Labour during the referendum campaign on Britain's membership of the EEC.
What happened next: Won 1979 election, prime minister until 1990. First 100 days: Margaret Thatcher
---
JAMES CALLAGHAN
"Sunny Jim" received an almost universal thumbs up from the press after 100 days as Labour leader and prime minister. Commentators praised his calming influence and straight talking approach. But with no working majority, his government was expected to be short-lived and speculation was rife about a snap election. It was widely expected Mr Callaghan would win, with Mrs Thatcher's Conservatives seen as weak and ineffective.
What happened next: Lost 1979 election First 100 days: James Callaghan.
---
MICHAEL HOWARD
He may not be loved by Tory activists or MPs but "he simply looks like a man who can do the job," noted Julia Hartley Brewer in the Sunday Express, in a piece marking Michael Howard's first 100 days as Conservative leader. There was a palpable sense of relief in the Conservative-supporting press about Mr Howard's business-like, disciplined leadership, after what was seen as the fiasco of the Duncan Smith years. But the opinion polls stubbornly refused to register the sort of lift-off in support needed if Mr Howard was going to win the 2005 election.
What happened next: Stepped down after Tory defeat in 2005 election. First 100 days: Michael Howard
---
IAIN DUNCAN SMITH
With the Conservatives at a low ebb after their second successive election defeat, the right wing press did their best to focus on the positive as they ran a rule over the largely unknown Iain Duncan Smith's first 100 days as party leader. But there were also signs of the sort of personal criticism and sniping that would bring his leadership to a premature, and bitter, end. "The frog in his throat has a long way to go before it can hope to turn into prince," noted The Times, in a jointly authored piece by Mr Duncan Smith's future cabinet colleague Michael Gove and Tom Baldwin, Ed Miliband's newly-appointed communications chief.
What happened next: Forced out as leader in November 2003. First 100 Days: Iain Duncan Smith
---
WILLIAM HAGUE
The knives were out for William Hague from the moment he was elected Conservative leader in June 1997. In-fighting over Europe and sniping from the party's old guard, still reeling at the drubbing they had received at the polls, ensured he had one of the shortest honeymoon periods of any party leader in history. He did not help his cause by being pictured in a baseball cap on a trip to a theme park - an image that came to define his doomed attempt to rebrand the Conservatives as a more youthful force.
What happened next: Quit as leader after defeat in 2001 election, now a Conservative peer in the House of Lords First 100 Days: William Hague
---
JEREMY CORBYN
Jeremy Corbyn spent much of his first 100 days battling his own party, despite having won almost 60% of votes cast in the election for Ed Miliband's successor.
The veteran outsider had never before held office or a front bench position in parliament. He sparked controversy within his first two months when he was seen not singing the national anthem at a service to mark the anniversary of the Battle of Britain. He later faced rebellions over a Commons vote on military action in Syria, led by the then-shadow foreign secretary Hilary Benn.
What happened next: Benn triggered a wave of resignations from the shadow cabinet, setting in motion a second leadership election which Mr Corbyn won.
---
ED MILIBAND
Ed Miliband assumed the role of opposition leader after a dramatic campaign against his older brother David. His victory came as a surprise to some - the Guardian writing that even Miliband himself was "not thought to have plotted out winning."
His political focus in his early days was on inequality, with policy proposals like the 'mansion tax', on homes worth more than £1 million, raising the top rate of income tax and restoring the lowest 10p tax rate.
What happened next: Led Labour to defeat in 2015 election, retired to the backbenches.
---
JOHN SMITH
The press were in a restless mood as John Smith celebrated his first 100 days as Labour leader in the autumn of 1992. He was failing to land enough blows on a chaotic and divided Conservative government, most pundits reckoned. He was accused of "coasting" and of being "dangerously complacent". "Though there is no doubting his courage, both his boxing skill and his punching power are questionable," wrote Alan Watkins in The Observer.
What happened next: Died in 1994. First 100 days: John Smith
---
NEIL KINNOCK
Could do better was the verdict of many pundits on Neil Kinnock's first 100 days as Labour leader, in late 1983. He was "a vast improvement on what went before," noted the Sunday Times, but, echoing a common complaint about the loquacious Welshman, he "talks too much when he has nothing to say". Hugo Young, in The Guardian, praised Mr Kinnock for steadying the Labour ship and claimed that what most pundits had seen as a negative, his lack of focus on policy detail, was a shrewd move.
What happened next: Leader for nine years - but lost 1987 and 1992 elections. First 100 days: Neil Kinnock
---
MICHAEL FOOT
Michael Foot got off to a disastrous start as Labour leader, losing a battle with the unions over the selection of future leaders and failing to control the bitter war with the hard left that was threatening to tear the party apart. He was, arguably, in an impossible situation. But as he passed the 100 day mark, in early 1981, commentators were in no mood to spare his feelings. "There has been a kind of hectic feebleness about his every move which is beginning to awaken pity rather than anger," wrote his former newspaper, the Evening Standard, beneath the headline "Let's Admit It: Foot's a Disaster".
What happened next: Labour suffered crushing defeat in 1983 election. First 100 days: Michael Foot