Theresa May on Brexit: UK to lead world on free trade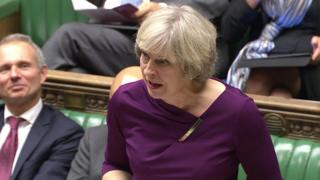 Theresa May has said the UK will be "the most passionate, enthusiastic and convinced" supporter of free trade in the world after it leaves the EU.
The prime minister, who attended her first European Council meeting at the weekend, told MPs the government would "develop our own British model".
She expressed her disappointment at the stalling of free trade talks between the EU and Canada.
Labour accused Mrs May of overseeing a "chaotic Brexit".
Formal exit negotiations will not begin until Mrs May triggers Article 50 of the Lisbon Treaty, something she has said will be done by the end of March 2017.
This means Brexit, backed in a UK-wide referendum in June, is likely to take effect by the summer of 2019.
Addressing the House of Commons, Mr May said: "I'm determined that, as we leave the EU, Britain will be the most passionate, enthusiastic and convinced advocate of free trade anywhere in the world."
She added that she "shared everyone's disappointment" that the EU-Canada trade deal could not be signed because of objections raised by the Belgian region of Wallonia.
The other 27 EU governments want to sign the agreement, which has taken seven years to reach this stage.
Mrs May said it was not her aim, after leaving the EU, for the UK, to "replicate any existing model that any other country has with the European Union", adding: "We will developing our own British model". This would be "ambitious", she said.
But Labour leader Jeremy Corbyn, who attended a meeting of European socialist leaders at the same time as the summit, said: "The message that came to me loud and clear from European leaders last week was the tone taken by this Tory government, since their Tory party conference earlier this month, has damaged our global reputation and lost us a lot of goodwill - not just in Europe but around the world.
"Although the prime minister's words may have appeased hardline voices behind her, they only spread anger and resentment all across Europe by the approach she and her party have taken."