MPs pay tribute to Holocaust survivor Kitty Hart-Moxon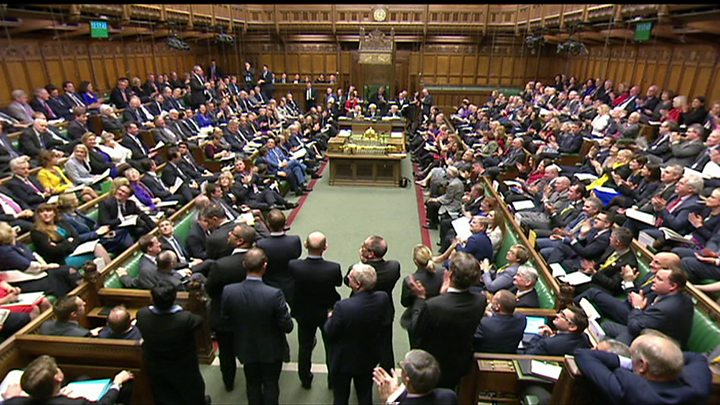 A 90-year-old Holocaust survivor prompted MPs to break with protocol and applaud at Prime Minister's Questions.
Conservative Bob Blackman told MPs how, in 1943, 16-year-old Kitty Hart-Moxon was forcibly taken to Auschwitz.
On liberation, she came to the UK and dedicated her life to making sure people knew all about the Holocaust and that its lessons were learned.
MPs on both sides looked up and applauded Mrs Hart-Moxon, who was watching from the public gallery.
Afterwards, Mrs Hart-Moxon said: "I was amazed and didn't know what to do, so I stood up. I felt very honoured."
Mr Blackman said Mrs Hart-Moxon had come to the UK with her mother, raised a family and had become a nurse.
He said she had dedicated her life to making sure that the people of this country, and beyond, knew the horrors of the Holocaust.
He went on to wish Mrs Hart-Moxon, who turned 90 last week, a happy birthday and paid tribute to her work raising awareness of the Holocaust, and that of the Holocaust Educational Trust.
David Lidington, standing in for Prime Minister Theresa May, said that he could never forget the impact of discovering, as a schoolboy, that two of his classmates had fathers who had survived Auschwitz.
"It is only a couple of generations ago that Europe was plunged into this unspeakable horror," he told the House, and urged MPs to play their part in ensuring that the wider lessons of that dark period in our history are remembered.
Karen Pollock, chief executive of the Holocaust Educational Trust, said: "Kitty Hart-Moxon is an inspirational woman who, having somehow survived the hell that was Auschwitz, has dedicated her life to sharing her worst moments in order to create a better future."