David Cameron at US basketball game with George W Bush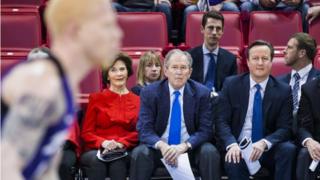 David Cameron has posted pictures of himself courtside at a US basketball game with ex-president George W Bush.
The former UK PM admitted he was still "a bit baffled" by the rules of the sport - despite seeing a previous game with avid fan President Obama in 2012.
Mr Cameron, who has kept a low profile since leaving Parliament in September, is giving a speech in the US later.
He tweeted: "My second basketball game with a US president and I'm still a bit baffled by some of the rules!"
He also congratulated one of the teams - SMU Men's Basketball - adding their hashtag #ponyup at the end of the message.
The former PM is on a trip to the US where he is set to give a speech at DePauw University, on "The Historic Events of 2016 and Where We Go From Here". It will be among his first public speaking appearances since he quit as PM in June, and resigned as an MP in September.
He is treading a well worn path - Tony Blair gave a speech there in 2008, the year after he resigned as PM, and John Major spoke there in 2001.
It is the second US basketball game which Mr Cameron has attended a US president. He and Barack Obama enjoyed a college basketball championships game in Dayton, Ohio in March 2012.