Committee aims for smaller House of Lords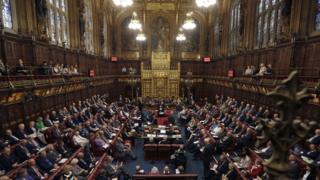 A cross-party group of peers has been set up to come up with ways to reduce the size of the House of Lords.
Earlier this month peers voted to reduce the size of the Upper House, which currently has 809 members.
There have been calls to make it no bigger than the Commons, which is set to be cut to 600 MPs.
The new committee will "explore methods by which the size of the House can be reduced, commensurate with its current role and functions".
The Lord Speaker, Lord Fowler, told peers: "This is not an easy task. But hopefully if this issue can be settled the public will be better able to recognise the true value of this House."
Chaired by independent crossbencher Lord Burns, it will also include Conservatives Baroness Browning and Lord Wakeham, Labour's Baroness Crawley and Baroness Taylor of Bolton, and Liberal Democrat Lord Beith.
Most of the members of the Lords have been appointed as life peers, but 91 are hereditary peers and 26 are Church of England bishops.
However, not all of the members regularly sit in the chamber, which has about 400 seats.