Stoke-on-Trent Central by-election: Candidates list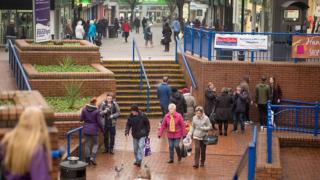 Voters go to the polls in Stoke-on-Trent Central on Thursday, 23 February to choose their next MP.
A by-election was triggered by the resignation of Labour Tristram Hunt, who had represented the seat since 2010.
Labour, which had a 5,179 majority in 2015, is fielding Gareth Snell as its candidate.
UKIP leader Paul Nuttall is running for his party, which came second last time around.
Polls open at 07:00 GMT and close at 22:00 GMT.
Here is a list of the candidates, in alphabetical order by surname:
Mohammed Yaqub Akram - Independent
Zulfiqar Ali - Liberal Democrats
Jack Brereton - Conservatives
The Incredible Flying Brick - Official Monster Raving Loony Party
Adam Colclough - Green Party
Godfrey Davies - Christian Peoples Alliance
Barbara Fielding - Independent
David Furness - British National Party Local People First
Paul Nuttall - UKIP
Gareth Snell - Labour