Corbyn tax return: Labour says media criticism 'entirely false'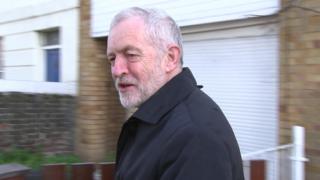 Labour has hit out at "entirely false" claims over Jeremy Corbyn's tax return, saying he had made a "complete and accurate" declaration of his income.
The form, published on Sunday, appeared not to show the money he was entitled to as leader of the opposition.
Labour said the £27,192 sum was listed under pensions and benefits as Revenue & Customs classified it that way.
A spokesman suggested the proprietors of critical newspapers had "questions to answer" about their own tax affairs.
Initially on Sunday, Labour said it welcomed media scrutiny of Mr Corbyn's financial affairs, but a spokesman for the leader now said it hoped that claims about the return made "without verifying or confirming the facts" would be corrected.
The Labour leader published his 2015-16 tax return on his constituency website to demonstrate his commitment to "openness and transparency".
The return appeared to show his salary as an MP, plus pension payments, but not the money he is entitled to as leader of the opposition.
The return records Mr Corbyn's "pay from all employments" as £77,019 - mostly from his MP's salary of £74,000 - along with a pension and state benefits of £36,045, £1,200 from self-employment and £78 in interest.
He paid income tax of £35,298 for the year 2015-16, after becoming Labour leader in September 2015.
A Labour source was initially unable to say why Mr Corbyn's leader's salary appeared to be missing from the return, which was prepared by accountants.
'Stand to lose'
But later a Labour spokesman said it was "untrue" the leadership payment had been omitted, saying it was included in the full return under the heading of "public office".
The party later clarified the payment was included under the pension and benefits income because it was not counted as part of his salary.
The apparent confusion was picked upon on by commentators, who said Labour had failed to answer simple questions about a form Mr Corbyn had chosen to publish himself and had not been required to do.
In a further statement issued on Monday, Labour said Mr Corbyn had declared all his income and paid the "appropriate amount" of tax.
"The payment he received in 2015-16 as Leader of the Opposition appears on the return as a 'benefit' rather than as pay because that is how it is categorised by Her Majesty's Revenue and Customs," it said
"This figure is calculated after deducting the waivers Jeremy has made of earlier increases to the benefit. These waivers were also made by his predecessor, Ed Miliband. A parliamentary pension contribution of £3,395 was also deducted."
'Botched'
Labour said it was "disappointed" that the Cabinet Office had not clarified how the supplement was recorded for tax purposes when contacted by the media.
"It is also a matter of concern that some media organisations made entirely false claims... and we expect these now to be corrected," the statement added.
"The owners of the media companies that have attempted to cast doubt over Jeremy's transparent and accurate tax return are of course among those who could stand to lose from tax transparency and justice the British people demand.
"Jeremy believes firmly in transparency. These media barons have tax questions of their own to answer."
But the statement prompted a backlash on social media, with the Sun's political editor, Tom Newton Dunn, suggesting Mr Corbyn's response to the "botched" form was to accuse the government and the media of a "joint conspiracy"
Independent columnist John Rentoul said the whole episode had become a example of "incompetence signalling".
And lawyer Jo Maugham said the figures needed further explanation, since recording a salary supplement as a state benefit was "not to stretch but to snap credibility".
The publication came after Chancellor Phillip Hammond declined a challenge to publish his own taxes, calling it "demonstration politics".
Speaking to the BBC's Andrew Marr Show, he said: "I have no intention of doing so. Just for the record my tax affairs are all perfectly regular and up to date. But I think this demonstration politics isn't helping the atmosphere in British politics."