The Conservative election expenses cases explained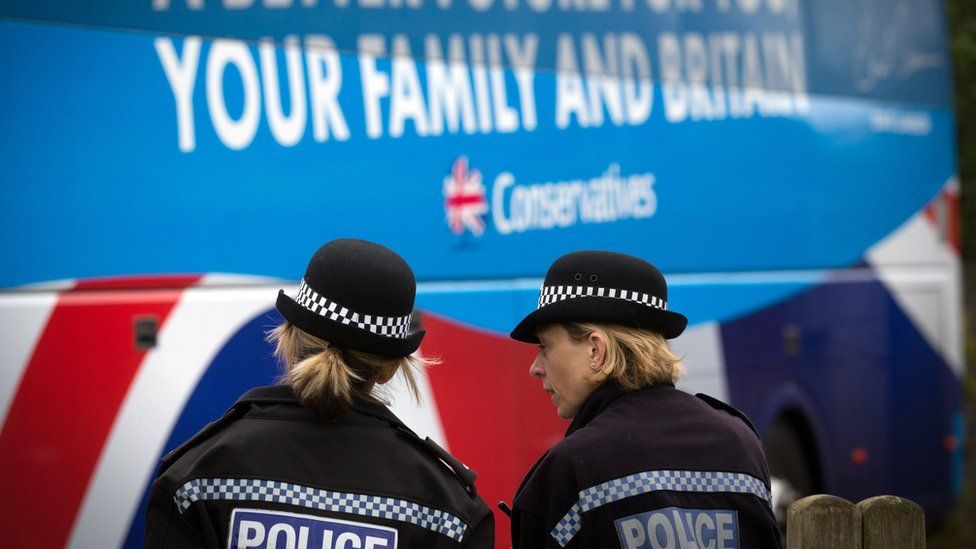 The Crown Prosecution Service has announced that no Conservative politicians or officials are to be prosecuted for allegedly breaking election expenses rules in 2015.
Fourteen files on alleged expenses violations were handed to the CPS by local police forces to decide if criminal prosecutions could be mounted.
The CPS could find no evidence that spending rules had been deliberately broken by Tory agents or candidates when filling in their returns.
"Although there is evidence to suggest the returns may have been inaccurate, there is insufficient evidence to prove to the criminal standard that any candidate or agent was dishonest," said Nick Vamos, head of special crime at the CPS, in a statement.
Is that the end of the matter?
A fifteenth file, on the contest in South Thanet, where the Tories saw off a challenge from then UKIP leader Nigel Farage, was only recently handed to the CPS by Kent Police. The CPS said it "remains under consideration".
Nick Vamos said: "No inference as to whether any criminal charge may or may not be authorised in relation to this file should be drawn from this fact and we will announce our decision as soon as possible once we have considered the evidence in this matter."
What impact will this have on the general election?
It will be a big relief to the Conservative Party. If the CPS had decided to press ahead with prosecutions it would have thrown the party's campaign into chaos. All of the contests under investigation were in marginal seats. The party would have faced a last-minute scramble to get new candidates in place before the deadline.
What have the Conservatives said?
Party chairman Patrick McLoughlin said: "These were politically motivated and unfounded complaints that have wasted police time. We are glad that this matter is finally resolved.
"A number of false and malicious claims continue to be spread on the internet. People should be aware that making false claims about a candidate's personal character and conduct is an electoral offence, as well as being defamatory.
"Notwithstanding these false claims, Conservatives want to strengthen election rules to safeguard electoral integrity - in light of the real and proven cases of electoral fraud exposed in Tower Hamlets in 2015."
The Conservative candidate for Lincoln, Karl McCartney, who was interviewed as part of the investigation, said heads should roll at the Electoral Commission watchdog.
"This whole saga amounts to no more than a politically-motivated witch-hunt," he added.
Labour leader Jeremy Corbyn said he was "surprised" by the CPS decision and wanted to "look at the details" of it.
He said he accepted that the CPS was an independent body and "they have to make the judgement" but it was crucial election law was enforced to ensure that "money can't buy power".
The Conservative Party failed to accurately report how much it spent on its 2015 general election campaign and on three by-elections. In March they were fined a record £70,000 by the Electoral Commission, which criticised the party for resisting its investigation in a report,
The Electoral Commission believed criminal offences may have taken place under the Representation of the People Act and asked the CPS to look into it.
What were the Conservatives accused of doing?
The party was essentially accused of using its national party muscle to get local candidates elected - something that's not allowed under the rules.
Parties have to stick to strict spending limits to try to ensure a level playing field.
Why did the CPS decide not to prosecute?
The CPS looked at whether candidates and election agents working in constituencies that were visited by the Conservative Party's party's "battle bus" had committed an offence by not declaring related expenditure on their local returns.
It found local Tory agents had been told that costs relating to the "battle bus" were part of the party's national campaign. As a result, the CPS concluded, "it would not be possible to prove any agent acted knowingly or dishonestly".
How did the Conservatives explain the errors?
The Conservatives say the misreported spending figures were an "administrative error" and not evidence of a conspiracy.
Don't all the parties bend the rules?
What can be done to stop it?
The Electoral Commission says it does not have sufficient powers to prevent overspending. It has warned that "there is a risk that some political parties might come to view the payment of these fines as a cost of doing business". Also, the Commission can only investigate national party spending and does not have the power to bring criminal prosecutions. The Conservatives say they "want to strengthen election rules to safeguard electoral integrity".