Labour: Tom Watson attacks Momentum-Unite 'secret plan'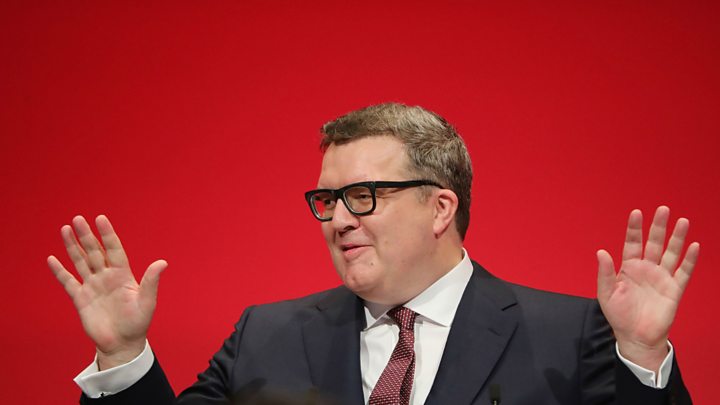 Labour leader Jeremy Corbyn has called for his MPs to unite - after his deputy Tom Watson warned of threats to the party from left-wing activists.
Mr Watson was "cheered to the rafters" as he arrived at a Parliamentary Labour Party meeting which was described by BBC sources as "explosive".
He claims the grassroots Momentum group is trying to increase its influence by obtaining funding from the Unite union.
Unite, which is Labour's largest financial backer, has denied this.
The row follows comments made by Momentum's Jon Lansman, who was reportedly taped saying Unite could affiliate to his group rather than just to Labour.
'So-called leader'
Mr Watson warned that Labour risks being destroyed by what he calls a "secret plot" by left-wing supporters of Mr Corbyn who are seeking to take control of the party.
During the PLP meeting there was shouting over the leadership's handling of the issue, with one Labour MP referring to Mr Corbyn as a "so-called leader".
Senior figures in the party challenged claims that Mr Watson had been isolated and condemned at an earlier meeting of the shadow cabinet.
An aide to the Labour leader denied briefing against Mr Watson and said Mr Corbyn's message had been on the need for the party to talk about the issues which affect Labour voters - not internal issues within the Labour party.
It is understood the chairman of the PLP warned that Momentum was operating as a "party within a party" after hearing a tape of Momentum founder Jon Lansman reportedly urging supporters to change the nature of the Labour party.
One senior peer who is a veteran of earlier internal battles said it was "like 1985 all over again", while another senior peer said it was "much worse than that".
The BBC's assistant political editor Norman Smith said the renewed infighting was potentially "catastrophic" for Labour coming in the wake of the Copeland by-election loss.
Mr Watson said he had a duty to "call out" what appeared to be a "secret plan" to take over the Labour Party and he urged Len McCluskey to publicly state Unite would not fund Momentum if he was re-elected as Unite leader.
In the recordings, which were revealed by The Observer newspaper, Mr Lansman says: "Assuming that Len McCluskey wins the general secretaryship, which I think he will, Unite will affiliate to Momentum and will fully participate in Momentum, as will the CWU."
He went on to tell activists it was "absolutely crucial" that they secured a change to the party's rules to ensure that whenever Mr Corbyn stands down, they are able to get a candidate on to the ballot paper to succeed him.
Mr Watson told BBC Radio 4's Today programme "we have never seen the biggest union organising a political faction in the Labour Party with the tacit approval of the leadership".
"Enough is enough, this has got to stop... I'm afraid there are some people who do not have our electoral interests at heart".
Following what was described as a "robust" shadow cabinet meeting, Mr Watson and Mr Corbyn issued a joint statement saying they "recognised the right of groups across the spectrum of Labour's broad church to discuss their views and try to influence the party so long as they operate within the rules".
"No one speaks for the leadership except the leadership themselves and their spokespeople," they added.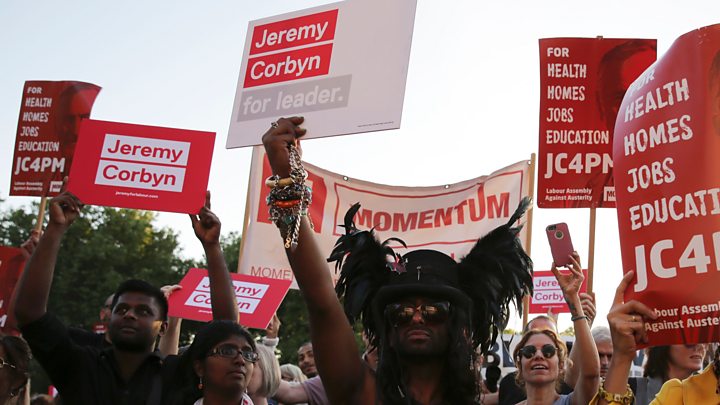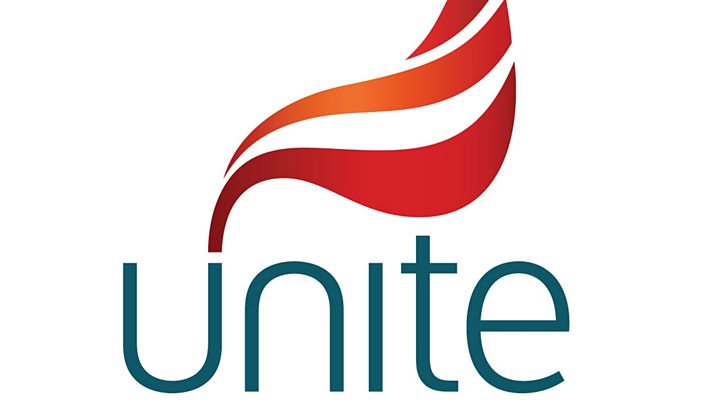 Ahead of Monday's meeting, shadow chancellor John McDonnell said Mr Watson's comments were "disappointing" and suggested he was trying to influence the outcome of the contest for Unite leader - in which incumbent Mr McCluskey - a supporter of Jeremy Corbyn - is being challenged by Gerard Coyne.
The ballot papers for the contest will be sent out later this week, with the result to be announced next month.
Mr McDonnell dismissed talk of any kind of plot to take control of the party, insisting "this is not civil war". "It is all about Tom and the internal battle that he is trying to wage within Unite," he said.
'Democratic deficit'
Currently, a candidate must obtain the support of 15% of Labour MPs and MEPs in order to stand - a threshold a new left-wing contender is unlikely to be able to meet.
Christine Shawcroft, a member of Momentum who sits on the party's National Executive Council, said Labour's MPs could not have a "veto" on the wishes of the membership when the time came to electing Mr Corbyn's successor.
"We have a mass membership now and it wants its voice to be heard," she told Today. "There is a democratic deficit in the Labour Party where the structures we have do not reflect the support for Jeremy Corbyn that has been shown by the mass of the members".
---
Analysis by political correspondent Iain Watson
Tom Watson did not mince his words when he spoke to me on Monday morning.
But was he really more concerned about the future of his party - or the future of his union, the now-inappropriately named Unite? Both are, in fact, currently inextricably linked.
Mr Watson had been personally close to the union's general secretary Len McCluskey - they are former flatmates.
But relations deteriorated when Labour's deputy leader failed to convince Mr McCluskey to persuade Jeremy Corbyn to agree a date when he would stand down as party leader last summer, after eight out of 10 of his MPs declared no confidence in him.
So there is now political and personal animosity.
---
Mr Watson, she suggested, was "rather right-wing" and wanted to return to a "command and control" system for running the party based on a "Blairite model". She rejected suggestions Momentum was a hard-left entryist organisation trying to infiltrate Labour, describing the terms as "silly labels".
"Jon said nothing that was at all controversial, but I think this is a concerted attempt to interfere in the internal election in Unite for general secretary, which is really shocking."
She added: "The offer is always open for any organisation, any trade union, to affiliate (to Momentum). They are welcome to do so. It is not a question of disaffiliating from the Labour Party and affiliating to Momentum instead."
Momentum sources pointed out that the TSSA union is already affiliated to Momentum, adding that there have been no "significant conversations" with Unite about future funding.
'Entirely inaccurate'
The contest between Mr McCluskey and Mr Coyne, Unite's West Midlands organiser who has said the union needs to meddle less in internal Labour politics, is being seen as a proxy battle for control of the Labour movement. Most Unite branches have backed Mr McCluskey in his bid to be re-elected.
Unite said Mr Watson's comments were "entirely inaccurate" and accused him of trying to "interfere" in the election.
"As Unite has made it clear it is exclusively for our executive council to determine which organisations we affiliate to," said acting general secretary Gail Cartmail. "There are no plans for Unite to affiliate to Momentum."
She added: "Mr Watson is a Unite member with a right to a vote and a view. But he should remember that, first, he is deputy leader of the Labour party with the obligations that this senior post imposes, and second that Unite is not a subsidiary of any political organisation."
But Mr Coyne countered: "To say there are no plans over the next month is somewhat disingenuous in reality because it clearly is John Lansman's belief that Len McCluskey will support Momentum."