London attack: 'I heard shouting and saw people bundled away'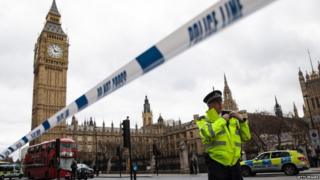 In a closely guarded part of Westminster, several hundred people are now in lockdown.
First I heard shouting at the security entrance then I saw policemen bundling members of the public and then moving others like me back from the entrance.
Then through the glass doors, I saw dozens of members of the public rushing along the riverside. MPs and staff were rushed to one of the emergency exits but were then moved back to the main part of the building.
MPs tell me they heard three or four gunshots on the way to a normal vote and then they ran. It still seems unclear what exactly has happened but with eyewitnesses reporting bodies on Westminster Bridge this is clearly the most serious kind of situation.
The normal routine of a Westminster Wednesday afternoon shattered.