General election 2017: Ed Miliband seeks grass roots votes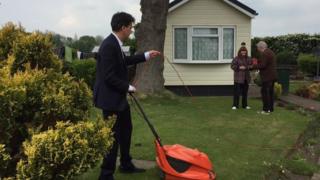 Former Labour leader Ed Miliband was pictured mowing a voter's lawn on Tuesday as he hit the campaign trail in Doncaster.
He joked on Twitter that he had been "following instructions for grass roots strategy".
Mr Miliband was canvassing for Labour's local election candidates in the Arksey area.
Activists who were with him said of the woman whose grass he trimmed: "We have her vote."
Mr Miliband also addressed Conservative leader Theresa May via Twitter, saying: "We should talk," after she was pictured eating chips in Cornwall.
He was mocked in 2014 over an unflattering photograph of him eating a bacon sandwich.
Former Lib Dem leader Nick Clegg was speaking for his party in his role as Brexit spokesman on Tuesday, delivering a speech in London about household finances.
But former Prime Minister David Cameron was fighting a different type of battle.
He is said to be at loggerheads with his family over who gets to use a new luxury shed he has installed at his home in the Cotswolds.
He intends to use the hut as a study to write his memoirs.