General election 2017: Lib Dems 'only challenger' to SNP in many areas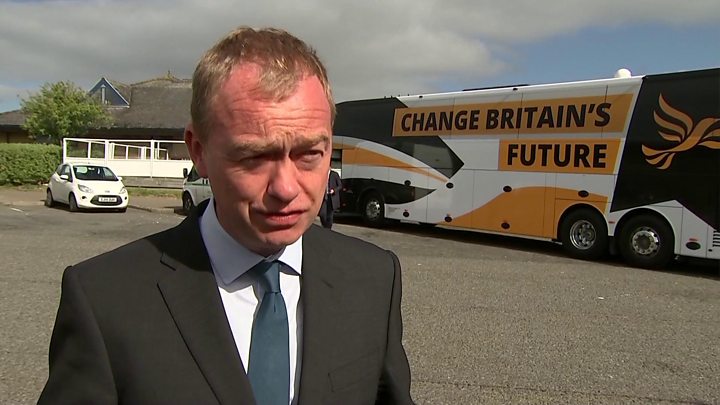 Liberal Democrat leader Tim Farron has said the council election results proved his party is the only challenger to the SNP in many areas of Scotland.
Mr Farron was speaking as he toured Scottish Lib Dem target seats ahead of next month's general election.
But SNP leader Nicola Sturgeon said voters faced a "straightforward choice" between her party and the Tories.
And the Scottish Conservatives and Scottish Labour formally launched their election campaigns.
Mr Farron arrived in Scotland on his campaign bus to congratulate the party's successful candidates in last Thursday's council elections, which saw the Lib Dems win 57 seats across Scotland.
The Liberal Democrats won only one seat in Scotland - Orkney and Shetland - at the last general election, but are hopeful of adding to that tally on 8 June.
The party has targeted seats such as Dunbartonshire East and Edinburgh, where it finished close behind the SNP in 2015.
And Mr Farron said the council election results, coupled with last year's Holyrood election results and the mood on the ground, showed that the Lib Dems were also the "real, and indeed, only challengers to the SNP" in parts of the Borders, Highlands and north east of Scotland.
He said his party would be "fighting against the divisiveness and the SNP's constant obsession" with a second independence referendum.
But he pledged to also provide "strong opposition to the Conservatives and their very narrow agenda", and accused the Tories of "taking Britain for granted".
Mr Farron added: "There is a very unique message from the Liberal Democrats in Scotland - it is the only party that thinks Scotland is better off in the United Kingdom, and that the United Kingdom is better off in the single market, and preferably in Europe."
Meanwhile, Ms Sturgeon said the outcome of the general election will determine for years the type of country Scotland will become.
Speaking as she visited a brewery in Perth, the first minister said any Conservative MPs elected in Scotland would simply be "standard bearer for Tory cuts", while her party's MPs would "stand up for Scotland against an increasingly right-wing Tory government".
And she said that SNP MPs would "put Scotland's future in Scotland's hands, not Theresa May's, not the Tories' and not Westminster's" and that "only the people of Scotland should determine the future of our country".
Ms Sturgeon added: "The issue at the heart of this election, not just in Perth and Perthshire but across Scotland, is a very straightforward one.
"Tory MPs from Scotland will be a rubber-stamp for Theresa May, for her reckless approach to Brexit and the cuts we know the Tories will want to impose.
"For those who want a stronger, fairer Scotland - and MPs who will speak up loud and clear against the Tories - then that can only be delivered by voting for the SNP on June 8th."
The SNP hailed last week's council elections as a victory after the party won 431 seats, more than any other single party.
But a surge in support for the Scottish Conservatives saw them end the day with a record 276 councillors, more than double the 115 they secured five years ago.
As she formally launched her party's general election campaign at an event in Edinburgh, Scottish Conservative leader Ruth Davidson challenged activists to redouble their efforts over the next month, saying they had a "massive fight on our hands against an all-powerful SNP."
Ms Davidson said: "Across Scotland, it's a two-horse race. And across Scotland, we also know people are looking for somebody to stand up to the SNP.
"So our challenge is this - it's to bring the SNP down to size. To show they can't take Scotland for granted.
"To show that we, the Scottish Conservatives, can lead Scotland's fightback against the SNP."
'Fed up'
Scottish Labour leader Kezia Dugdale also launched her party's campaign, urging voters to "send a message" to Ms Sturgeon by backing Labour.
She said: "For many Scots the shine is coming off the SNP as they realise it only has one answer for everything - a referendum on independence.
"Scotland's moderate majority doesn't have to vote for the Tories and endorse the rape clause and the bedroom tax to stop a second referendum.
"A vote for the Tories won't send Nicola Sturgeon a message - it will just send Theresa May back to Downing Street.
"The only way that people across Scotland can reject this Tory government and reject the threat of a divisive second independence referendum is to vote Labour."