General election: UKIP's Paul Nuttall backs return of death penalty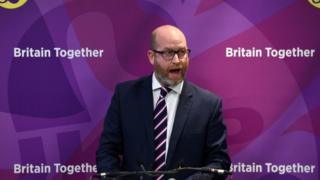 UKIP leader Paul Nuttall has said he would be willing to execute those who kill children or British soldiers.
He supports capital punishment and says his party would be willing to offer a referendum on its reintroduction.
Asked by the Mail on Sunday if he was prepared to act as executioner, Mr Nuttall replied: "Yes."
The last executions in the UK were by hanging and took place in 1964. UKIP's manifesto does not include a call for the return of the death penalty.
Mr Nuttall told the paper: "I would like to see the death penalty for terrorists and child killers.
"'For people who kill a (British) soldier and harm children, I would not have a problem doing it. I believe in capital punishment for treason. Opinion polls show the vast majority of people agree with me."