Brexit: UK must retain 'voice' in setting business standards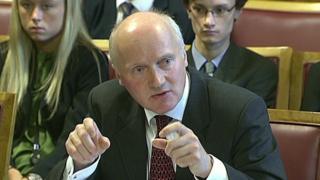 The UK's membership of European bodies that set industry-wide business standards cannot be taken for granted after Brexit, peers have been told.
The British Standards Institution's Dr Scott Steedman told a Lords committee he was "optimistic" the UK would retain its current role determining global rules in areas such as product safety.
But he warned countries could make life difficult if "politically motivated".
And he said a desire to do deals may see the UK "sleepwalk into problems".
Appearing before the EU Justice Sub-Committee, the BSI's director of standards told peers that the UK's exit from the EU was likely to result in its involvement in bodies that developed and defined voluntary technical standards at a European and global level coming under "discussion".
The UK is one of 34 members of the European Committee for Standardisation (CEN) and the European Committee for Electrotechnical Standardisation (CENELEC) - which agree common standards and technical specifications for popular consumer products such as fridges and toasters and for materials in sectors ranging from chemicals and construction to transport and packaging.
Such standards are used across the European Single Market and further afield, but the two bodies are private associations and not part of the European Union.
Dr Steedman said that, after Brexit, the UK would continue to fulfil the obligations of membership and it was his "expectation" that nothing would change.
But he said the articles of association of the organisations would have to be re-written as they were currently based on the assumption that members were either in the EU, the European Free Trade Association or were seeking to join the EU.
"The statutes were not written imagining there would be a country in the situation of the UK," he said.
"The word changes may be small, but they will still need to be approved by a good number.
"Were any of those countries politically motivated, there may be questions."
'Serious risk'
Urging a quick resolution to the issue, he said: "Were we excluded, that would leave consumers and our industries with no voice in the European standards domain and that would be extremely damaging.
"There would be quite a serious risk that our industries would be using European standards, because they have to, but they would have had no influence over their shaping."
Although the UK was also a leading player in setting business standards in fields such as risk management, corporate social responsibility and anti-corruption, he said, the government did not always fully appreciate the central role the industry played in underpinning regulation at a national and Europe-wide level.
"We have offered to support government in [Brexit] negotiations to avoid sleepwalking into problems," he said.
"I think that is the main issue that we could face that we could sleepwalk into problems in our enthusiasm to do deals.
"Other countries have resolved this, Switzerland being a good example."
Leon Livermore, chief executive of Chartered Trading Standards, told the committee that the UK must retain access to certain EU systems such as the Rapex product safety database, through which the 28 EU members and three EEA countries share information about faulty and dangerous items.
"It is a really good example of European co-operation," he said.
But he said there were also potential opportunities from Brexit, saying it could reduce the "burden" on companies - particularly those that did not trade outside the UK - to have to respond to information-sharing requests.
"Not every non-compliance needs to be a criminal offence," he added.
The government has said it will maintain existing levels of consumer protection after Brexit as it converts EU law on to the domestic statute book and establishes new enforcement regimes in certain areas.
Asked by Labour peer Lord Cashman whether consumers would notice any diminution in standards when the UK left the EU, Dr Steedman said he believed there would be no change, while Mr Livermore said there would be no difference "on day one".
But Mr Livermore added: "If we have those reciprocal arrangements going forward, that's all well and good - but the more divergence we have in legislation, the more divergence we have in structures, the harder it is to underpin that, even before you think about devolved powers coming back."