Sarah Smith to present BBC's Sunday Politics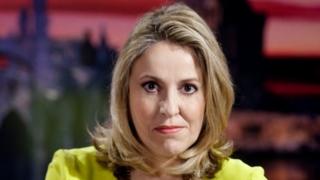 BBC Scotland's Sarah Smith is to take over as the presenter of the Sunday Politics from Andrew Neil.
Smith will host the programme when it returns from its summer break on September 17 at 1100 BST.
The former Channel 4 News correspondent will combine her new role with her job as BBC Scotland editor.
Andrew Neil will continue to present BBC Two's Daily Politics and the late-night discussion programme This Week on BBC One.
He said: "I loved presenting Sunday Politics - it was a privilege and honour to hold the political discourse up to the light for all those years and while I will miss it greatly I am delighted to continue to work for the BBC on This Week, Daily Politics and other projects.
"I wish Sarah the best of luck with this challenging and wonderful production."
Smith joined the BBC in 2014 and took on the newly created role of Scotland editor the following year.
She said: "Andrew is one of the great political interviewers who leaves big shoes to fill. I am thrilled to take on this role at such an exciting time in British politics.
"I am very much looking forward to working with the Sunday Politics team. For me now, if it is a Sunday it's the Sunday Politics."