Iain Duncan Smith warns over cuts to marriage guidance support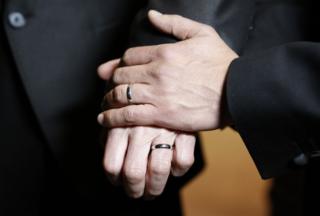 Cutting funding for marriage guidance and relationship counselling would be a "retrograde step", former Tory leader Iain Duncan Smith has warned.
He said that he had been told officials had been asked to draw up plans to cut support in the Budget later this year.
Cuts, he warned, would hit the poorest and most vulnerable the hardest, given the link between strong relationships and physical and mental health.
As many as 1.4 million families are at "breaking point", Relate has warned.
In January 2016, former prime minister David Cameron pledged to double levels of state assistance for relationship counselling to £70m as part of his government's life chances strategy.
Announcing the extra investment, intended to help an extra 300,000 couples over five years, Mr Cameron said strong families were the "best anti-poverty measure ever invented" and while it was right in some circumstances for couples to split, the impact of family break-ups on children was often devastating.
Mr Duncan Smith, who served under Mr Cameron for nearly six years as work and pensions secretary before quitting in March 2016, said more resources since 2010 had helped "re-stabilise" many families in difficulty but that this was now under threat.
In an article for the ConservativeHome website, Mr Duncan Smith said he understood that officials were reviewing existing commitments in the run-up to Chancellor Philip Hammond's autumn budget - in which further spending cuts are expected to be announced.
Cutting spending on relationship support would be a "step in the wrong direction", he said, given the huge socio-economic cost of family breakdowns and the "firm evidence" as to how effective early intervention was in helping spouses and partners resolve their differences and improve their own and their children's lives.
He said government studies had shown that every £1 spent on counselling saved the state an estimated £11, by reducing the number of times people visited GPs and increasing their recovery rates from serious illnesses.
'Not understood'
The government's focus, he added, should be on making counselling available to more of the 3 million people whose relationships are estimated to be in difficulty.
"I strongly believe this (cuts) would be a retrograde step as the already damaging effects of family breakdown would only get worse without such support," he wrote.
"I worry this is an area not much understood, or even cared about, by opinion formers when ranged against other much more expensive and high-profile areas of expenditure and thus its loss would not be noticed.
"Without this funding, innumerable families and couples will no longer be able to access marriage and relationship support, particularly those on low incomes and vulnerable groups who often need it the most."
Relate, which provides counselling and other services to more than 1.8 million people, said maintaining funding levels was vital if those most in need were to continue to access support.
It said its research suggested 18% of UK adults were in "distressed" relationships.
"We are aware that this is an important time in the Department for Work and Pensions' decision-making process and we urge them to continue to fund relationship support, counselling, information and education," the organisation's chief executive Chris Sherwood said.
"It's all too easy to overlook the value of relationships to individuals and society, but they play a critical role in our health and wellbeing and in ensuring that children get a good start in life."
A government spokesperson said: "Mounting evidence shows the damaging effect parental conflict has on children, which is why we remain committed to supporting parents, whether separated or not, to work together."
This year will see an autumn Budget for the first time in 20 years after Mr Hammond opted to move the date of the government's annual tax and spending announcement from earlier in the year.
March's Budget earlier this year will be the last Spring one while the Autumn Statement, in which the chancellor provided an update on the public finances and additional tax measures, is being scrapped.