Theresa May meets Japanese Emperor Akihito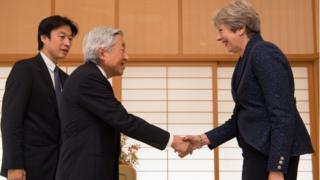 Theresa May has met Emperor Akihito on the last day of a visit to Japan to discuss trade and security.
The PM spent 20 minutes in private talks with the 83-year-old, who is due to abdicate following ill health.
Downing Street said the visit had been "highly successful" after the PM and her counterpart Shinzo Abe agreed to improve work on defence.
Mrs May said Britain and Japan would work "quickly" to establish a new economic partnership after Brexit.
Speaking at a press conference in Tokyo, she said the two countries would work together to "unblock remaining barriers to trade and take steps to build the closest, freest trading relationship between the UK and Japan after Brexit".
'Biggest priority'
But she added: "We have agreed here today that we want to see a swift conclusion of the ambitious EU-Japan economic partnership agreement.
"Prime Minister Abe and I have agreed that as we exit the EU we will work quickly to establish a new economic partnership between Japan and the UK, based on the final terms of that agreement."
Lib Dem Alistair Carmichael said Mrs May had been seeking a new trade deal but had had to admit that the "biggest priority will be completing the one the EU is already negotiating".
"It's a sign of the prime minister's weakness that rather than going abroad to fight for British jobs, she's been forced to desperately fight for her own."
Coverage of the trip has been dominated by Mrs May's comments that she was "here for the long term" and intended to lead her party into another general election - despite losing the Conservatives' parliamentary majority with her decision to call a snap election this year.
Speaking on Thursday, Prime Minister Abe said that Japanese companies had continued to invest in the UK after the Brexit vote, which demonstrated their "profound trust" in the British economy.
It was important for the world economy for Brexit to be "smooth and successful" he said, calling for "transparency and predictability" so as to minimise its impact on business.
He added: "We also agreed to have further enhancement of the dialogue between the two nations for the strengthening of the bilateral economic relations after the Brexit."
As she left Japan, Mrs May welcomed a proposal by the Japan-Britain Society to plant cherry blossom trees in the UK as a symbol of the friendship between the two countries.
In 1912, the Japanese government gifted 3,000 cherry blossoms to Washington DC, whose vivid presence each spring has become a permanent reminder of US ties with Japan.
Downing Street said the aim was for UK-Japan relations to be celebrated in a similar way, with the details to be worked out in due course.