Jeremy Corbyn: Single market membership 'open for discussion'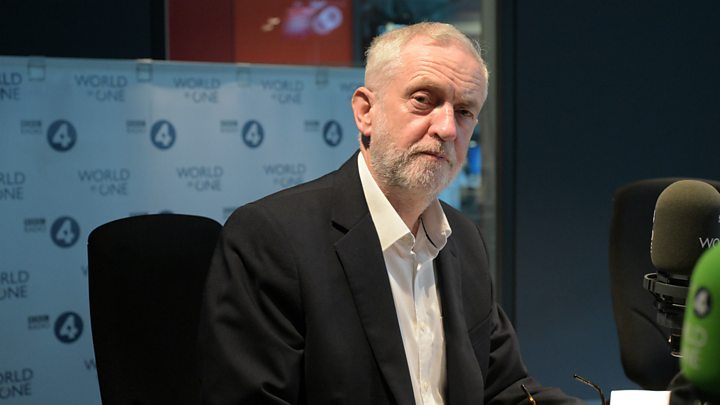 Labour leader Jeremy Corbyn has said it is "open for discussion" whether the UK remains in the EU single market.
But the party then insisted its policy had not changed and that the UK would not remain a single market member in the long term.
Labour's policy is to stay in the single market - which enables tariff-free trading between members - for a temporary period after March 2019.
In a BBC interview, Mr Corbyn was asked whether this could go on indefinitely.
He told BBC Radio 4's The World at One: "We want a relationship which allows us to trade within the single market.
"Whether that's formal membership, which is only possible, I believe, if you're actually a member of the EU, or whether it's an agreed trading relationship, is open for discussion. The outcome is more important than the nomenclature on the way."
Mr Corbyn has previously said the UK will have to leave the single market, membership of which carries obligations including accepting the free movement of EU citizens - because it is "inextricably linked" with EU membership.
Responding to his latest comments, a Labour spokesman said: "We won't be 'members' of the single market after the transition.
"We want to achieve full tariff-free access to the single market. That could be achieved by a new relationship with the single market or a bespoke trade deal with the EU."
BBC assistant political editor Norman Smith said the leader's remarks were likely to fuel fears among some Brexit-supporting Labour MPs that the party is backtracking on the issue.
Deputy leader Tom Watson is among Labour MPs who has suggested the UK could remain in the EU's single market on a permanent basis but said this would depend on the outcome of the wider Brexit negotiations.
Conservative MP James Cleverly said: "Labour continue to remain divided, changing their stance from one minute to the next."
The UK government is seeking a comprehensive free trade deal with the EU to replace its current membership of the single market.
But this cannot be negotiated until the EU agrees to move Brexit talks on from their initial phase.