EU Withdrawal Bill: How your MP voted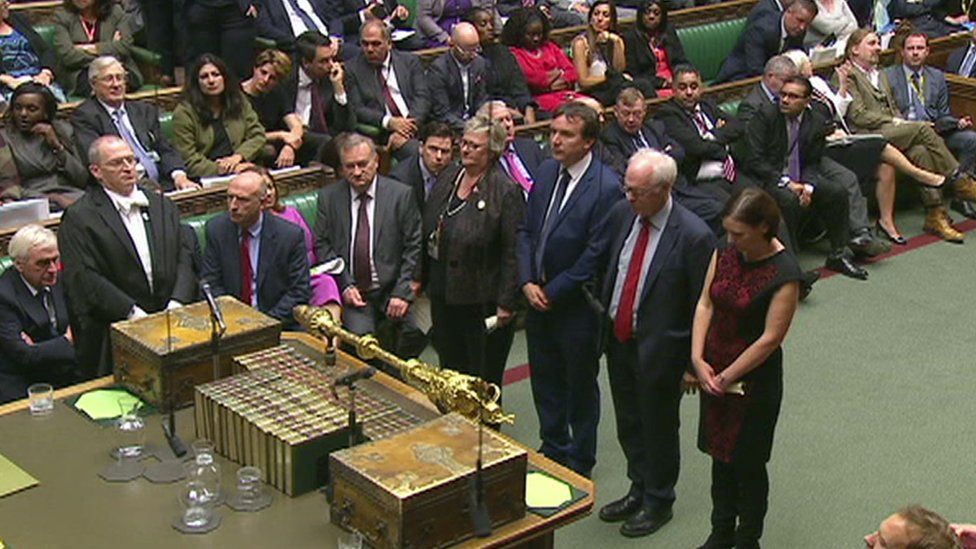 MPs have approved the government's EU repeal bill, officially known as the EU (Withdrawal) Bill, at Second Reading by 326 votes to 290.
But how did your MP vote?
Use this search to see how your MP voted and then scroll down to see a full list of MPs who rebelled against their party leader or who did not vote (either due to abstaining, illness or other factors - such as being tellers or because they will chair part of the committee stage of the bill).
Sorry, your browser cannot display this content.
The Labour MPs to go against their party's three-line whip - the strictest instruction to vote - were:
Ronnie Campbell (Blyth Valley)
Frank Field (Birkenhead)
Kate Hoey (Vauxhall)
Kelvin Hopkins (Luton North)
John Mann (Bassetlaw)
Dennis Skinner (Bolsover)
Graham Stringer (Blackley and Broughton)
Labour MPs who did not vote
Ian Austin (Dudley North)
Kevin Barron (Rother Valley)
Caroline Flint (Don Valley)
Yvonne Fovargue (Makerfield)
Graham Jones (Hyndburn)
Helen Jones (Warrington North)
Ged Killen (Rutherglen and Hamilton West)
Madeleine Moon (Bridgend)
John Spellar (Warley)
Anna Turley (Redcar)
Derek Twigg (Halton)
Conservative MPs who did not vote
Nick Boles (Grantham and Stamford)
Kenneth Clarke (Rushcliffe)
Johnny Mercer (Plymouth, Moor View)
Mhairi Black (Paisley and Renfrewshire South)
The following four MPs did not vote because they will be chairing the committee stage:
David Hanson (Labour)
Sir David Amess (Conservative)
Gary Streeter (Conservative)
David Crausby (Labour)
The following four MPs did not vote because they were tellers (the MPs who verify the count)
Nic Dakin (Labour)
Vicky Foxcroft (Labour)
Andrew Griffiths (Conservative)
Mark Spencer (Conservative)
Update 16 November 2017: This report has been amended to make clear why the four MPs who were tellers were not recorded as having voted.