Brexit: Ex-minister Lord Bridges urges 'honesty' over EU exit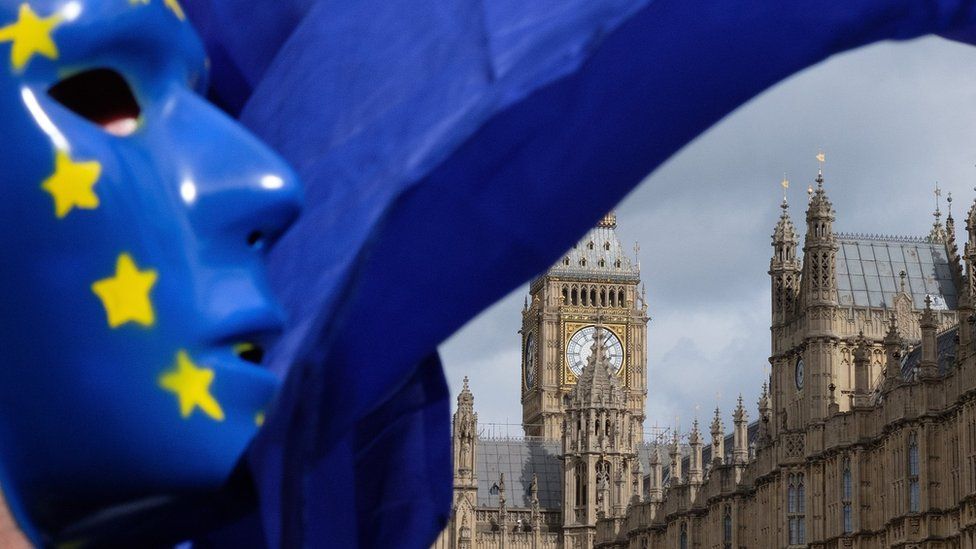 A former Brexit minister has said the UK must be "honest" about the "complexity and scale" of leaving the EU.
Lord Bridges also urged honesty about the lack of time to reach agreement with the EU over the UK's withdrawal.
The Tory peer, who left government after June's general election, emphasised the need for a transitional arrangement after March 2019.
That is when the UK is due to leave the EU under the Article 50 process.
Negotiations are under way, and ministers have said some form of interim arrangement - ending before the next general election - would help avoid a "cliff edge" scenario as new arrangements kick in.
On Tuesday evening, peers debated the recent series of papers published by the UK government setting out its position on key negotiation subjects.
Lord Bridges, who campaigned for Remain in last year's EU referendum, said: "We must be honest about the task we face, and its complexity and scale.
"We should be honest about the need to compromise. Honest about the lack of time we, and the EU, have to come to an agreement on our withdrawal."
He said the transitional arrangement must have a clear end point to avoid fuelling suspicion that "it would be a means to stay in the EU permanently by stealth".
"During this period we should keep, as far as possible, the existing arrangements we have with the EU," he said, adding that the UK should make it clear it will carry on paying into the EU budget until the current "financial framework" ends in 2020.
As parliamentary under-secretary in the Department for Exiting the EU, Lord Bridges was a member of the ministerial team led by Brexit Secretary David Davis.
Saying the government will not be "defined by Brexit" - as Theresa May has done - is "careless talk" that will distract the government from the "task at hand", he said.
"The priority for every department must be to help ministers get the best possible deal, prepare us for Brexit, and ensure we prosper once we have left. Nothing is more important."
Lord Bridges added that the question of what sort of country the UK will be when it regains powers from Brussels was "unanswered".
The fourth round of UK-EU negotiations, will start on 25 September after they were put back a week.
Negotiations are focusing on any "divorce bill" to be paid by the UK, citizens' rights and Northern Ireland.
The EU says talks cannot move on to trade until it is happy sufficient progress on the initial subjects.