Lib Dem conference 2017: Guide to task facing the party
By Kristiina Cooper
Political reporter, BBC News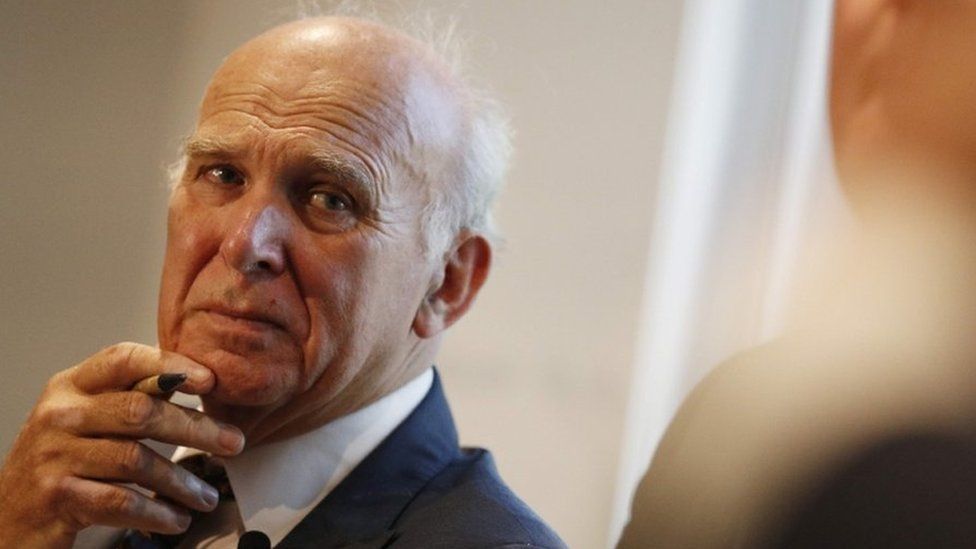 Liberal Democrats are gathering in Bournemouth for their annual conference. Here's a guide to the event which runs from Saturday to Tuesday.
Think back to 2015 when the Liberal Democrats took a hammering at the general election, punished for going into coalition with the Conservatives. From 57 MPs, they were reduced to a rump of just eight.
Big names - Vince Cable, Ed Davey, Danny Alexander - were voted out. The Lib Dems lost their status as the third largest party in the Commons - a role seized by the SNP.
After their humiliating defeat the Lib Dems were the butt of jokes, often delivered by the Conservative politicians they'd been partners with for five years.
At conference 2017, the Lib Dems can take some comfort from the fact that the really tough times seem to be behind them.
Things have got better - with membership increasing since the end of the coalition years, a trend that accelerated after last year's EU referendum, thanks to the party's pre-Remain stance.
The Lib Dems got a confidence boost last December when their candidate Sarah Olney won the Richmond Park by election - unseating the Conservative Zac Goldsmith. Her victory was widely put down to Remain-voting constituents venting their anger over Brexit.
For a party that prides itself on gender equality, it was a source of embarrassment that after the 2015 election the remaining eight Lib Dem MPs were all men.
Thanks to this year's general election, four of their 12 MPs are now women: Wera Hobhouse, Christine Jardine, Layla Moran and Jo Swinson. With the presence of women MPs on the podium at this year's conference, credibility is restored.
Soul-searching after the snap election
It had looked as if the Liberal Democrats might carve out a role as the "go-to" party for the 48% who voted to stay in the EU. They were understandably optimistic about gaining extra seats at the snap general election in June. But it did not work out like that.
The Lib Dems only gained four additional seats, taking the number of MPs up to 12. But their share of the vote actually went down to 7.4% from 7.9% in 2015.
Even the Brexit factor seemed to fade away with Zac Goldsmith winning Richmond Park back from Sarah Olney. One casualty after the election was Tim Farron, who held his seat as an MP but lost the role of leader he had held since the summer of 2015.
At conference, there will be some soul-searching about how the Lib Dems position themselves. Having spent five years in national government, it's hard to play the plucky outsider challenging the Establishment.
Do the Lib Dems really want to be a think-tank for rival parties again? With British politics looking rather polarised, there might seem to be some empty space in the centre.
Former leader Lord Ashdown thinks it's time for the Lib Dems to produce some more eye-catching policies.
In a pre-conference letter to his party, he told members they were producing "very few new ideas" and must "think big" again.
The party will be holding this year's conference with a new leader. Sir Vince was crowned leader in July after no-one else stood for the role.
Aged 74, he brings plenty of experience - from his warnings about risks ahead of the financial crash, to his ministerial jobs in the Conservative-Lib Dem coalition.
And don't forget his appearance on Strictly Come Dancing. He also showed some nifty footwork to win back the Twickenham seat at this year's election, two years after losing out to a Conservative.
He has appointed Sarah Olney as his chief of staff. As documented above, she's had a rather lively start to her political career, but as a relatively fresh face might she help with the generating of fresh ideas.
Getting (positive) publicity hasn't been easy for Lib Dem leaders in recent years - but the conference will give Vince Cable a chance to reach out to voters.
He's got a head-start on recent incumbents because quite a few people know who he is. The challenge for Sir Vince is to stir up some excitement.
Earlier this month he gave a considered speech to the Resolution think-tank on how to reduce inequality. He called it a "social and economic weakness" in the UK and thinks it's one reason why the UK voted for Brexit. He promised to make inequality a "theme" of his leadership. Will he be able to translate that into appealing policies?
But remember when Nick Clegg wowed people at the party leaders' TV debates in 2010? Sir Vince's speech on the last day of conference (Tuesday) is his big moment. Will he unveil a dangerous new idea that captures media attention, or have the jokes to cut through on social media?
A big question for the Liberal Democrats is where they stand now on Brexit. With the wheels for exiting the EU in motion, finding the right stance is trickier than it might appear.
At the general election - when Tim Farron was leader - the party argued for a referendum on any deal reached with the EU - the choice being: accept the deal or stay in the EU.
Vince Cable used to argue against another referendum. Since becoming leader, he supports it. Given how divisive Brexit is, the leadership may wish they could put Brexit on the backburner at the conference.
But activists want a bold position and there could be a lively debate on the second day of the conference if a motion to block Brexit altogether gets an airing.
Stephen Crosher is one of the activists moving the motion, which proposes that the Lib Dems urge the government to "reverse the triggering" (to detrigger?) of Article 50, which set in motion the UK's exit from the EU.
One tactic to avoid attention is to point out other parties' weaknesses. Sir Vince has tried to capitalise on differences within the Conservative and Labour Party.
At conference, he is likely to continue in this vein, suggesting that the Labour leader Jeremy Corbyn is, quietly, a hard Brexiteer. The idea is to try again to lure to the Lib Dems the pro-EU voters who backed Mr Corbyn at the election.
The Lib Dems are not exclusively Hard Remainers so the "reverse Brexit" motion, if debated, would not necessarily get an easy ride.
In a Commons vote in March, the official Lib Dem position was to vote against triggering Article 50. But two Liberal Democrat MPs - Norman Lamb and Greg Mulholland - abstained, arguing that the result of the referendum should be respected.
Brexit will appear at many times and in many guises.
After lunch on Saturday there will be a debate about the impact on public services. A motion tabled by the Lib Dem peer and former MEP Baroness Ludford accuses the Conservatives and Labour of being committed to a "hard Brexit including abandoning membership of the European Single Market".
It also says that more than half of the 10,000 doctors from European Economic Area countries are "considering leaving the UK" because of Brexit - and that applications from EU nurses to work in the NHS has fallen by 96%.
It's traditional to look out for what might seem wide of the mainstream ideas being debated at the Lib Dem conference, especially at fringe meetings.
Watch this space. In the meantime, delegates can let off steam at the official Lib Dem disco on Saturday night or the "Communi-oke".
Key debates at the Liberal Democrats conference:
09.00-09.05 Opening of Conference by Baroness Brinton
09.25-10.10 Policy motion: Learning to Communicate in English
14.10-15.25 Policy motion: The Impact of Brexit on Public Services
17.50-18.00 Report: Campaign for Gender Balance
10.00-10.45 Policy motion: Armed Forces Personnel: Recruitment, Retention and Welfare
10.45-12.30 Consultative session: Europe
14.10-15.10 Question and answer session: Leader Sir Vince Cable
15.30-16.45 Policy motion: Safe Building Standards for all Homes
10.00-11.00 Policy motion: Defeating Terrorism, Protecting Liberties 32
11.00-11.20 Speech: Former leader Tim Farron
14.10-15.10 Policy motion: Employment in the 21st Century
15.30-16.30 Policy motion: Encouraging Companies to be Responsible Corporate Citizens
09.00-09.35 Policy motion: European Atomic Energy Community
11.10-11.50 Policy motion: Protecting Small Businesses
12.10-12.50 Policy motion: Gun and Knife Crime
14.10-15.30 Leader's Speech: Sir Vince Cable
Correction 26 September 2017: An earlier version of this story wrongly said that Norman Lamb and Greg Mulholland voted for Article 50 being triggered.