'Historic' schools funding change confirmed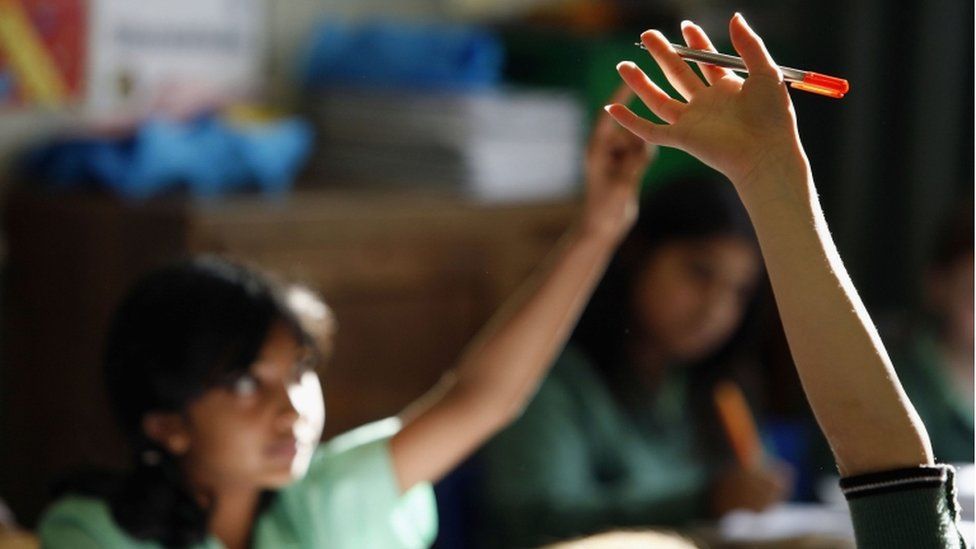 "Historic" changes to the schools funding formula in England will make it fairer and more transparent, says Education Secretary Justine Greening.
Changes announced last December sparked protests from parents concerned their schools were set to lose out.
Ms Greening said she was increasing the basic level of funding schools would get per pupil - with a minimum level of £3,500 for primary schools by 2019-20.
But Labour said it would still mean a real terms cut, due to inflation.
The new national funding formula was announced by the education secretary last December, following years of complaints that schools in different parts of the country were receiving different levels of per pupil funding.
But it was met with protests across England amid concerns that thousands of schools stood to lose money. In July, Ms Greening promised an extra £1.3bn over two years, found from elsewhere in the education budget.
Giving details of an updated version of the formula, Ms Greening told MPs on Thursday it was a "historic reform" that would address "inequities in funding that have existed for far too long" and would "direct resources where they are most needed".
She said "when Coventry receives £510 more per pupil than Plymouth, despite having equal proportions of pupils eligible for free school meals", it was clear the formula had to change.
The £1.3bn extra funding announced in July meant overall budgets would rise by £2.6bn in total from almost £41bn in 2017-18 to £43.5bn in 2019-20, she said.
She said she was increasing the basic level of funding to at least £4,800 per pupil at secondary schools in England, as announced in July, and £3,500 per pupil at primaries.
The Department for Education said this would mean an increase for every school of at least 1% per pupil by 2019-20 - with the most underfunded schools getting up to a 3% rise.
The per pupil funding confirmed on Thursday is more generous than when the new formula was announced in December 2016.
Then, it was proposed that primary schools would attract £2,712 for every pupil, rising through a pupil's school career to a maximum of £4,312 for Years 10 and 11, the last years at secondary school.
But schools will not automatically get the per pupil funding.
Local authorities will be given a block grant that they must allocate to schools in their area.
Ms Greening said "final decisions on local distribution will be taken by local authorities" but, under the new formula, on average every school would receive at least 0.5% more per pupil in 2018-19 and 1% more in 2019-20 "compared to its baseline", while many schools would receive "significantly larger increases".
Shadow education Secretary Angela Rayner said pressure from schools, teachers and parents had forced the government "to abandon millions of pounds in outright cuts to schools".
But she told MPs the announcement did "nothing to reverse" cuts already faced by schools.
She quoted the National Audit Office, saying schools had already lost nearly £2.7bn since the Conservatives pledged in 2015 to protect funding in real terms and asked Ms Greening to "admit to the House that her announcement today does nothing to reverse those cuts and keep that promise".
The funding formula would result in a "real terms cut in school budgets", because of inflation, she added.
Association of School and College Leaders (ASCL) general secretary Geoff Barton said while he welcomed setting minimum funding levels, they were "still way too low to allow schools to deliver the quality of education they want to provide and which pupils need".
The ASCL says an extra £2bn a year is needed by 2020 to address "real terms" cuts to education funding.
Mr Barton said: "The fundamental problem is there is not enough funding going into education... schools have already suffered huge cuts, and the additional funding is nowhere near enough to prevent further cuts."
Jules White, a West Sussex head teacher who co-ordinated a campaign over funding shortages, said Thursday's announcement appeared to be "an attempt to simply paper over the cracks".
"Arbitrary funding caps within the formula mean that the massive disparities between adequately funded and inadequately funded schools will continue. They will be locked in for years to come.
"The spectre of even larger class sizes, teacher shortages, reduced pastoral care and even reduced curriculum time will not recede until all schools are adequately and fairly funded."
Richard Watts, of the Local Government Association, said it was pleased the government had given councils and schools the "flexibility to set budgets locally" to help them adjust to the new formula but called for a review of funding for children with disabilities or special educational needs.