Hurricane Irma: OECD 'not keen' on aid rule changes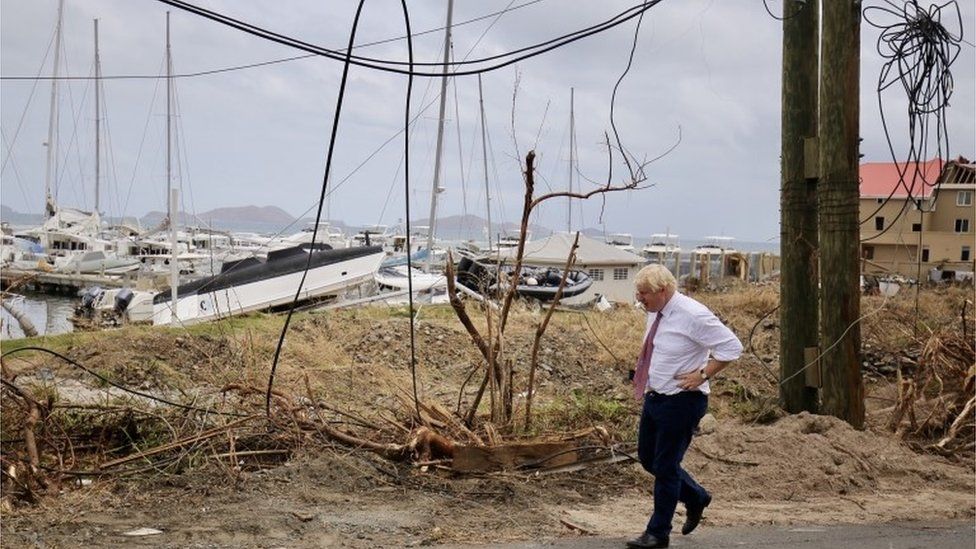 The international organisation that decides what counts as official foreign aid has told the BBC that it is "not keen" on reopening the rules.
Senior OECD official Charlotte Petri Gornitzka said any change would need the support of all 30 member countries.
She was speaking before it emerged international aid rules prevent the UK using its aid budget to help overseas territories hit by Hurricane Irma.
The UK has since called for urgent changes to ensure rules are "relevant".
Ms Petri Gornitzka, a senior official at the Organisation for Economic Cooperation and Development (OECD) in Paris, said that she welcomed a debate about what spending should qualify as foreign aid.
But she said the development assistance committee (DAC) that she chairs would not make any quick decisions and any change would require the unanimous support of all OECD members.
She was interviewed by the BBC earlier this week, before it emerged that the DAC rules prevent Britain from spending its £13bn aid budget on the victims of Hurricane Irma in Anguilla, Turks and Caicos and the British Virgin Islands.
The national income of the UK's three dependent territories in the Caribbean is too high for the islands to qualify for official development assistance.
On Thursday the prime minister's spokesman said that Theresa May was "frustrated" with the rules and called for urgent changes to allow the islands to be eligible for aid.
International Development Secretary Priti Patel has written to Ms Petri Gornitska's committee asking them as a matter of urgency to draw up options to ensure the rules reflect the vulnerability of small island states.
"These rules were first established over 40 years ago," Ms Patel said.
"The world has changed dramatically since then, and we will work constructively with international partners to ensure the rules remain relevant and up to date."
In their election manifesto earlier this year, the Conservatives promised to try to update the rules so that they "better reflect the breadth of our assistance around the world".
Before Hurricane Irma, Ms Patel had spoken of wanting more military spending to be treated as overseas aid when the army, navy or air force are used to establish security or deliver humanitarian assistance in fragile states.
Sources within the development sector told the BBC that in recent months Ms Patel's officials have been talking to aid charities and other countries to see if they can secure any support for changing the rules.
In a response to Ms Patel's letter, Ms Petri Gornitzka issued a statement, saying: "The DAC is always open to discussing issues of concern with its member countries.
"The issues of development finance for countries in transition and graduation from the list of ODA eligible countries is to be discussed in the DAC during coming months. It is important to stay relevant in a world with changing realities."
Officials insisted that this showed that Hurricane Irma had changed the debate about aid rules in the international community including the DAC.
But OECD sources said that Ms Petri Gornitzka comments in the interview with the BBC conducted last Monday still reflected her views.
In it, she said that Britain had not proposed any changes to the rules that could be discussed at the next meeting of OECD ministers in October.
"We are not keen overall to reopen rules that very often," she said.
"We have very important things on the agenda with the "in donor" refugee costs, with the private sector instruments, with the reform of the DAC as such."
She added: "The committee welcomes the debate. But if that translates directly into reopening rules I would say it is not a given that that is the only outcome.
"Rules can be discussed, interpretation of rules can be discussed, obviously... I would not go that quickly. The talk is to reopen something for perhaps the sake of it, I don't know."
She made clear that the committee would not make a quick decision even if the government did put forward some proposals: "I would be surprised if we moved that fast. And if you want to reopen, you have to know what you want to see happen, what has to be reopened to do new things.
"There has to be in the debate alternatives that are clear, compelling and rules are not just reopened, they have to have an alternative and content and there remains a lot before a committee is there to take a decision."
Ms Petri Gornitzka made clear that she wanted official development assistance to be spent more on developing countries and on long term development, rather than within donor countries and on short term crises.
"I do think it is important that we, as a committee, think through where we spend the money," she said.
"The whole intent of ODA is to spend the money in least developed countries and not necessarily more for the providers own needs, if you will."