Leadsom offers Brexit law olive branch
By Mark D'Arcy
Parliamentary correspondent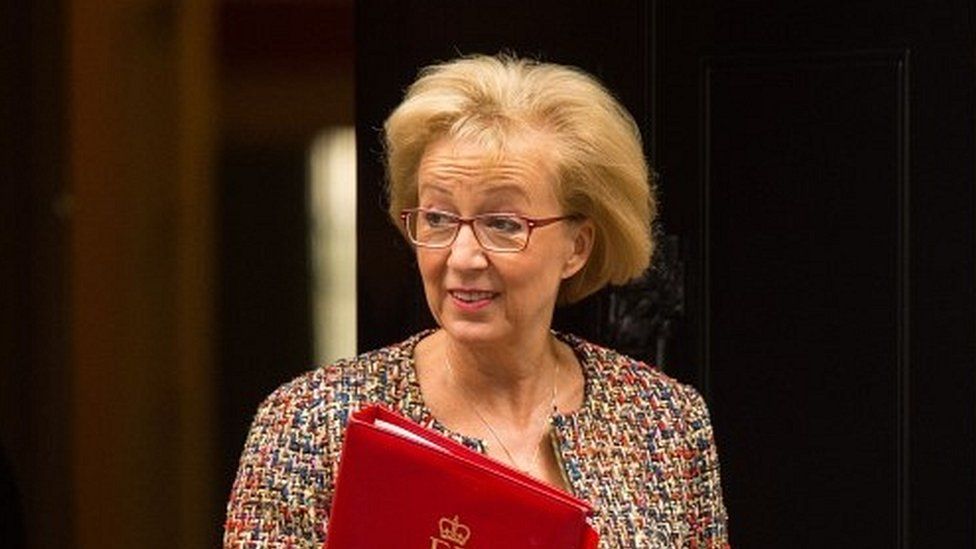 Commons leader Andrea Leadsom has urged all parties to co-operate to get vital Brexit legislation through.
When MPs return from the party conference season in October, they face eight days of detailed debate on the first big Brexit bill, the European Union (Withdrawal) Bill.
This is highly controversial because it gives ministers sweeping powers to adjust 40 years of EU law.
Opponents have called it a "great power grab."
Speaking after a bruising week which saw her accused of "jaw-dropping tactics," attempts to "rig parliament" and "power grabs," Ms Leadsom told BBC Radio 4's Today in Parliament that there had been "quite cross banter", but she hoped all parties would now work together, constructively, in the national interest.
"When you think about it the Parliamentary arithmetic means that this must be a Parliament that works together and collaborates," she said.
"I wouldn't be that naive to suggest that Opposition would just want to cooperate, but at the same time I do think that we can build a good businessman-like relationship across the House to try and get this legislation through, in the interest of the country.
"Behind the scenes we will be seeking their views in terms of possible amendments - we do need to make sure that the Parliament is more collegiate and that Opposition members will feel that they've been able to feed into the legislation and there will be many opportunities for them to have their say."
Parliament faces some years of intensive legislating to deal with issues arising from leaving the EU, and with the Conservatives lacking an outright Commons majority, Ms Leadsom is offering an olive branch to the other parties and arguing that it is in no-one's interest for Brexit legislation to be delayed or blocked.