Charity anger at ministers' refusal to relax lobbying rules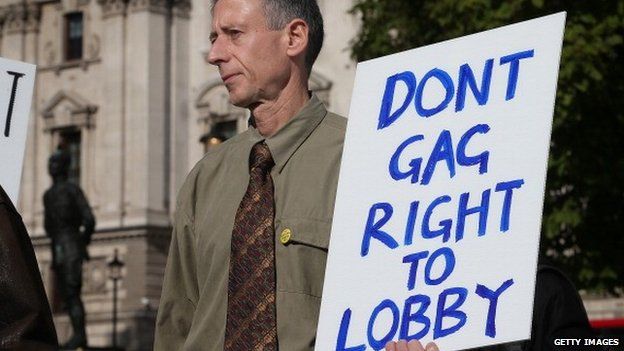 Charities have reacted angrily after ministers refused to relax rules restricting them from campaigning during elections.
More than 100 charities - ranging from Greenpeace to the Girl Guides - wrote to the government calling for the Lobbying Act to be overhauled.
But government sources said there was no time in a packed legislative programme to change the law.
A Cabinet Office spokesman said: "The rules on third party campaigning in elections ensure that activity is transparent and prevents any individual, company or organisation exerting undue influence in terms of an election outcome.
"We recognise and value the role that charities play in our society and are keen to work with voluntary bodies to ensure the rules are well understood."
The charities claim legislation passed in 2014 stopped them from "engaging" during the general election campaign.
"How are charities supposed to speak up for the most vulnerable and marginalised people in society, both here and globally, when they are at risk of being penalised by the Lobbying Act?," said Tamsyn Barton, chief executive of international development charity Bond.
"The government is legislating the sector into silence at a time when our voices are needed the most. This is a terrible day for British democracy."
The act limits how organisations not deemed to be "party political" can campaign during election periods.
Charities say they either have to take expensive legal advice to stay within the rules or restrict their activities.
Sir Stuart Etherington, chief executive of NCVO, which represents 13,000 voluntary organisations in England, said: "The failure of the Cabinet Office to address this issue is unacceptable.
"The government made a clear commitment to reviewing the impact of this law, and to now reject any changes out of hand can only weaken the voice of those that charities serve.
"These reasonable and considered recommendations were recently endorsed by politicians from all parties in the House of Lords, and the government must reconsider."
Charities warned of potential difficulties with the Transparency of Lobbying, Non-Party Campaigning and Trade Union Administration Act when it passed through parliament in 2013.
At the time, Labour MPs called the legislation "risible and misconceived", predicting that it would give a "hammering" to the voluntary sector.