Lib Dem conference: Cable urges 'exit from Brexit' vote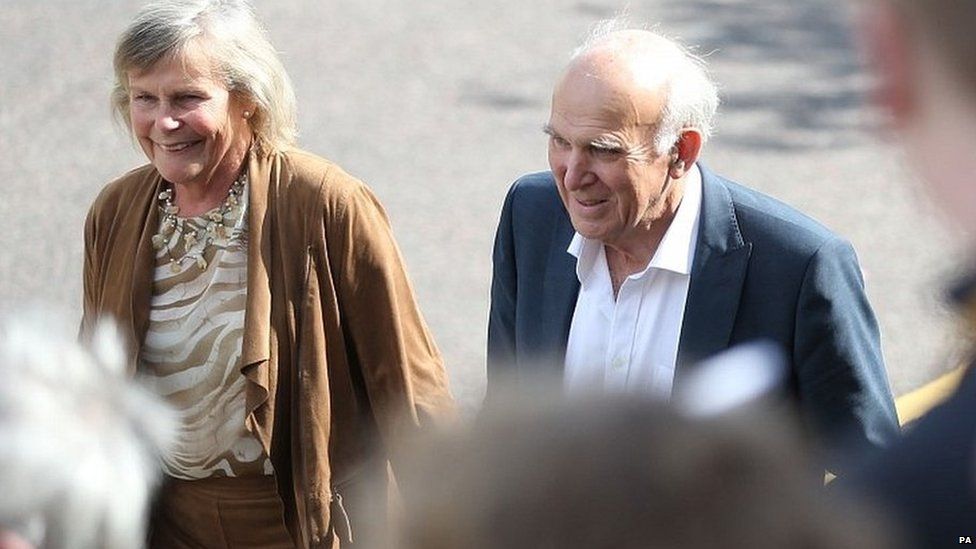 The public must be trusted to have the final say on whether they want to "exit from Brexit", Sir Vince Cable has said.
The Lib Dem leader told a rally at the party's conference there should be a second vote once a "clear picture" had emerged of the outcome of the EU talks.
He insisted the Lib Dems must do more to communicate the message that they are the "party of remain".
"This a battle ahead we have got to win," he said. "This is the biggest battle of our political lives."
He insisted he did not want a re-run of the 2016 vote, which saw the UK vote to leave by 51.9% to 48.1%.
Once negotiations had concluded, the public would be better informed about the choice facing the UK and would be asked to settle the matter once and for all in what he said would be the "first referendum on the facts".
Both the Conservatives and Labour have ruled out any further referendum, saying the UK will leave the EU.
The four-day conference in Bournemouth is set to be dominated by the Brexit issue, with a debate on Sunday on the UK's future relationship with the EU amid increasing calls from within the party for a tougher line.
Speaking at the traditional start of conference rally meeting, Sir Vince said the Lib Dems would not be satisfied with securing a "soft, easy" Brexit, suggesting such a prospect was "not for real".
While he conceded he had initially been sceptical about the merits of having a second referendum so soon after the 2016 plebiscite, he said the issue of the UK's future in Europe was too important to let rest.
"We are the party of remain. We believe membership of the EU is in our country's interest," he said.
"No-one has come up with a plausible explanation about how leaving will make us better off than we are inside.
"Nobody has come up with a plausible explanation about how this process can be managed in a way that does not cause enormous cost and enormous damage."
Likening Brexit to a divorce, Sir Vince said he feared the negotiations could get "messy and nasty".
"People will have a choice - do you want to go ahead or have an exit from Brexit?"
"What we are saying once we have a clear picture of the destination, that is the moment the people should have their say. We have to argue people should be trusted."
Despite making a second referendum the centrepiece of their general election campaign, the Lib Dems got a lower share of the vote than in 2015 - 7.4% - although they did see four more MPs elected.
Ahead of his first conference as leader, Sir Vince appealed to "moderates" who may be dismayed by the direction of the Conservatives and Labour but acknowledged his party had much more work to do to broaden its appeal.
"British politics is now becoming very polarised between extreme hardline Brexit government and a hard left Labour Party. People are going to be looking for sensible, moderate, middle-ground politics. That is what we can provide."
Sir Vince, who was elected unopposed this summer after Tim Farron resigned in the wake of the election, conceded it had not done as well in June's election as hoped and leading a party with 12 MPs was a "challenge".
"Yes, the result did not live up to our expectations," Sir Vince added. "I think we are going to turn it around... It is a challenge but I wouldn't have taken it on unless I was optimistic."
He insisted the party must not come to be totally defined by Brexit - "a UKIP in reverse" - and that it had to spell out clear positions on issues it was long associated with - such as civil liberties, devolution and the environment.
On Sunday, activists will also debate the armed forces covenant and housing standards among other issues.