Brexit: Boris Johnson and stats chief in row over £350m figure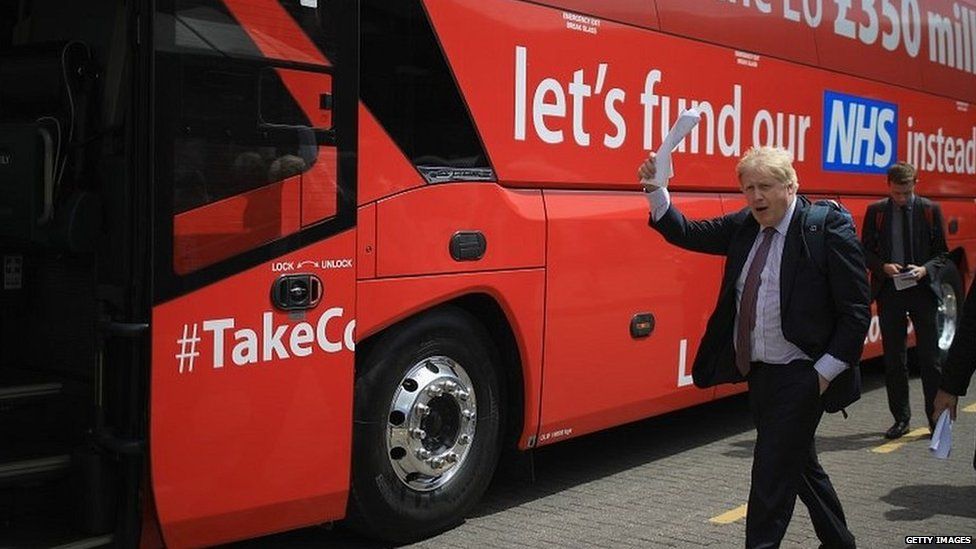 The UK's statistics watchdog has stood by its criticism of Boris Johnson in a growing row over the possible financial windfall the NHS may get from Brexit.
Sir David Norgrove said he was "disappointed" the foreign secretary had revived Vote Leave's pledge of £350m a week extra for the NHS.
Mr Johnson hit back at "a wilful distortion of the text of my article", asking for the claim to be withdrawn.
In it, he wrote: "Once we have settled our accounts, we will take back control of roughly £350 million per week.
"It would be a fine thing, as many of us have pointed out, if a lot of that money went on the NHS."
The article, in which he also said he opposed paying the EU to secure temporary access to the single market during a transitional phase after the UK's departure, divided Tory MPs.
Some claimed it undermined Theresa May's leadership ahead of a crucial speech later this week and amounted to a leadership challenge.
Home Secretary Amber Rudd accused her cabinet colleague of being a Brexit "back-seat driver", telling the BBC that while it was fine for Mr Johnson to show his enthusiasm for Brexit, he should remember he was not "driving the car".
Defence Minister Tobias Ellwood criticised what he called "party discord", tweeting: "We are not witnessing our finest hour-at a testing time when poise, purpose and unity are called for."
But a leading figure in last year's Brexit campaign, Environment Secretary Michael Gove, urged people to focus on what Mr Johnson had written, "not the headlines".
"Debate should be forward looking on how to make most of life outside EU - not refighting referendum", he added on Twitter.
Analysis: 'Public slanging match'
By Chris Mason, BBC political correspondent
This is an extraordinary row.
A senior cabinet minister and the most senior civil servant responsible for official statistics, engaged in a public slanging match on a Sunday afternoon.
At lunchtime, Sir David's letter, accusing the foreign secretary of "a clear misuse of official statistics."
Then the first counter attack: a spokesman for Mr Johnson claimed that Sir David was actually complaining about the headlines provoked by the foreign secretary's article.
No he wasn't, responded a spokeswoman for the UK Statistics Authority.
And then Mr Johnson's formal written reply to Sir David accusing him of "a complete misrepresentation of what I said" and asking him "to withdraw it."
Who will people trust the most? The civil servant or the politician?
The authority, which is an independent statutory body, previously criticised use of the figure - which was displayed on the side of a campaign bus - during the 2016 referendum campaign.
Sir David wrote in the letter: "I am surprised and disappointed that you have chosen to repeat the figure of £350 million per week, in connection with the amount that might be available for extra public spending when we leave the European Union".
The watchdog said the article "confused" the size of the UK's annual gross and net contributions to the EU's budget.
His letter continued: "It also assumes that payments currently made to the UK by the EU, including for example for the support of agriculture and scientific research, will not be paid by the UK government when we leave. It is a clear misuse of official statistics."
In Mr Johnson's reply, he wrote: "I must say that I was surprised and disappointed by your letter of today, since it was based on what appeared to be a wilful distortion of the text of my article.
"You say that I claim that there would be £350 million that 'might be available for extra public spending' when we leave the EU.
"This is a complete misrepresentation of what I said and I would like you to withdraw it."
He continued: "Once we leave the EU we will take back control of all such UK-funded spending, and, although of course I have no doubt that we will continue to spend significantly on UK priorities such as agriculture and research, that spending will be done under UK control.
"As for the rebate - whose value you did not know - it only forms part of the EU's financing arrangements with the agreement of all other EU member states.
"We do not control it ourselves."
Labour MP Yvette Cooper said Mr Johnson "just thinks it's OK to repeatedly lie".
Lib Dem leader Sir Vince Cable said the foreign secretary's credibility was "shot to pieces".
Several Tory MPs have praised Mr Johnson's vision of what can be achieved after the UK leaves and said his objectives are largely in tune with those of the government.
Writing in the Telegraph, backbencher Jacob Rees-Mogg said the article was "tremendous" and had "magnificently rejected" the "depressing view" that Britain could not cope without the protection of the European Union.
Speaking on the Andrew Marr Show, Ms Rudd said she did not believe it was a prelude to a leadership challenge.
"I know what an irrepressible enthusiast (Johnson) is about Brexit, and what he's done is set it out there, I think it's absolutely fine, I would expect nothing less from Boris," she said.
But she added: "I don't want him managing the Brexit process, what we have got is Theresa May managing the process, driving the car.
"I am going to make sure, as far as I and the rest of the cabinet is concerned, we help her do that."
Several prominent Leave campaigners have distanced themselves from the £350m figure in the wake of the referendum result although others have continued to insist it is legitimate.
The prime minister is due to make a major speech on Brexit in Florence, amid speculation she is prepared to announce some kind of deal on transitional trade payments.
First she is due to meet Mr Johnson in New York, where the foreign secretary is expected to be in the audience when she addresses the United Nations General Assembly on Wednesday.