Vince Cable: I love skiing and driving fast cars
By Gavin Stamp
Political reporter, BBC News, Bournemouth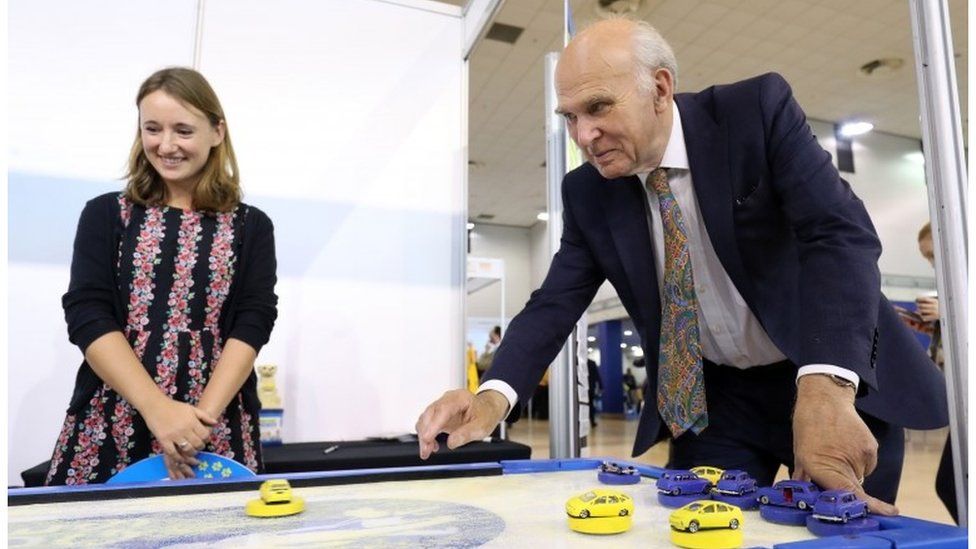 Sir Vince Cable has revealed he likes to engage in "dangerous, edgy" sports and misses the thrill he got as a minister road-testing fast cars.
The 74-year-old ex-business secretary, best known up to now for his love of ballroom dancing, said he also had a fondness for "high energy" pursuits.
Having taken up skiing 11 years ago, he said he would like to attempt an arduous "black run" down the slopes.
A black run is considered highly testing, even for elite skiers.
Sir Vince became the eldest leader of a major political party for more than 50 years when he was elected unopposed in July.
When quizzed on what he does to relax during a question and answer session at the Lib Dem conference in Bournemouth, Sir Vince said: "I love slightly dangerous things. High energy, edgy things.
"I learned to ski when I was 63, which is a bit hazardous. But I go off once a year to the place where the Russian mafia assemble in the Alps, and go out on the slopes.
"I've got into red runs. One of my unfulfilled life ambitions is to do serious black runs. So, you know, a bit of danger, a bit of speed."
He confided that since his five years in the cabinet as business secretary had enabled him to indulge his fondness for driving high-performance sports cars.
"The thing that, actually, I miss more than anything else is the adrenaline I got when I used to go off visiting car companies and they would allow me to drive their fastest cars."
Sir Vince, who appeared in a Christmas edition of Strictly Come Dancing, also said he loved to read and write books.